Brilliant drive by Hansson to fifth place at Imola
The performance of the car, drivers and team leaves Greaves Motorsport in an optimistic mood.

After running as high as second, Greaves Motorsport finished fifth overall this afternoon in the 3 Hours of Imola, the second round of the 2013 European Le Mans Series. It was an incident packed race with many twists and turns, and though the team's Nissan powered Zytek prototype had terrific race pace, the final result left a sense of disappointment. It truly was a case of what might have been.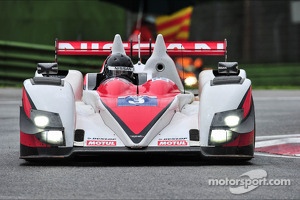 #3 Greaves Motorsport ZYTEK Z11SN Nissan: David Heinemeier Hansson, Tom Kimber-Smith
Photo by: XPB Images
Tom Kimber-Smith, starting from fifth on the grid, ran with the leading pack throughout the whole of his 90 minute stint handing over to his team mate, David Heinemeier Hansson, in fourth place. David continued Tom's good work, and despite slippery conditions, due to a brief shower, he made up places as others encountered problems. At the final pit stop the team received a stop and go penalty for a pit lane exit infringement, this dropped the car down the order in such a closely contested race.
Team Manger Jacob Greaves: "It was a great performance from David, who held his own against other more experienced drivers with high reputations. We were all very impressed. The penalty we received was unfortunate, but rules are rules, and we totally respect the decision of the Stewards. The performance of the car, drivers and team leaves us in an optimistic mood when considering our next race, the Le Mans 24 Hours."
Greaves Motorsport
Powered by
18+, UK residents only, T&Cs Apply, Gamble Responsibly
Brilliant drive by Hansson to fifth place at Imola