Camilleri's first appearance hints at new Ferrari direction
First impressions mean a lot in Formula 1 – especially when you have just been handed one of the sport's most important jobs at perhaps its most important team.
Who can forget how newly appointed Ferrari team principal Marco Mattiacci was never really allowed to forget walking around the paddock on a grey day in Shanghai with his sunglasses stuck steadfastly to his head?
It didn't matter that he had wanted to cover his tired eyes after 30 hours stuck on a plane – the impression of a man putting fashion over function stuck in many people's minds.
This is why the F1 media pack was intrigued to see how Ferrari's new CEO Louis Camilleri came across during his first appearance in front of the press at Monza on Friday.
There were no sunglasses for a start. Nor the black jumper that became Marchionne's trademark. Instead, jeans, shirt and a blazer were the order of the day.
Relatively unknown outside of the team – despite Camilleri's long connections with Maranello and its title sponsor Philip Morris – the fact he has come in as successor to the larger than life Sergio Marchionne has increased the fascination around him.
Marchionne was known for a brutally aggressive approach to management and business, demanding total commitment from those who worked for him, and was combative when it came to dealing with the opposition.
The no-nonsense approach was clear to fans, obvious to the team and was well known to F1's chiefs – who had been on the receiving ends of Marchionne's threats to pull Ferrari out of grand prix racing if it didn't like future rules.
Within a few seconds of Camilleri's appearance, though, the contrast between Marchionne's aggressive style of leadership and the new CEO's style could not have been clearer. The shift has been from glass half empty to glass half full.
Asked if he followed Marchionne's desire to see the smiles from the faces of rivals wiped away, Camilleri responded intriguingly: "I prefer to see the smile on the face of our fans."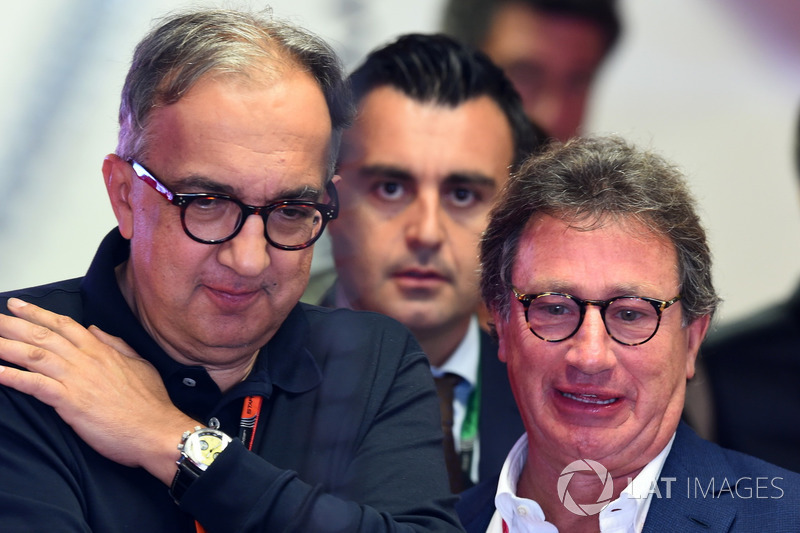 Sergio Marchionne, CEO FIAT and Louis Camilleri, Chairman of Philip Morris
Photo by: Sutton Images
It is clear Camilleri does not want to shake things up in a way that Marchionne did when he arrived as successor to Luca di Montezemolo.
He praised team principal Maurizio Arrivabene, heaped praise on Sebastian Vettel and Kimi Raikkonen, wound back on the F1 quit threats and made clear that with 'momentum' behind Ferrari there was no need for a revolution.
It is clear it is business as usual.
But despite the relatively soft approach in his answers, it would be a mistake to underestimate Camilleri and think he is an easy push over.
For he was clear that, while his approach to problem solving would mean taking a different path to how Marchionne would have dealt with things, the end goals remain the same.
"Sergio and I clearly have very different styles, however I think we have the same ambition and we had a mutual respect," he said.
"We clearly discussed the Ferrari business as well as the Philip Morris business many, many times. So, I miss him. And he clearly was an amazing individual. A huge brain, boundless energy, and very ambitious, as am I."
The media may have been left without the soundbites and outlandish comments that Marchionne so loved to give out, but Camilleri has already offered up the first clues about a more conciliatory Ferrari that remains intensively committed to success.
But we will not have to wait long to see if the public calmness flows over to hard business practice. For Ferrari's investor conference on September 18 will give us a proper answer as to just how different Maranello will really be in the post-Marchionne era.
Louis Camilleri, Ferrari CEO
Photo by: Jon Noble
Camilleri's first appearance hints at new Ferrari direction