Motorsport.com's Top 20 junior single-seater drivers of 2017
The junior single-seater scene featured many exciting talents and potential future Formula 1 stars in 2017, but who were the top performers? Motorsport.com selects its 20 most impressive young drivers.
20.  Alessio Lorandi
7th in GP3, 1 win, 4 podiums
At Formula 3 level, Lorandi displayed little of the impressive talent he showed in karting, but since switching to GP3 he has started to rebuild his reputation.
With the small Jenzer outfit, Lorandi was easily the best non-ART driver in the first half of the season, and while his form tailed off a bit as the season progressed, he still managed to grab a sprint race win at Jerez.
Becoming Jenzer's most successful GP3 driver since 2012, the Italian made the most of his opportunities. He spent three days with Trident in the Abu Dhabi GP3 test – and would certainly be a title contender with that team next year, although breaking ART hegemony would not be easy. David Gruz
19.  Nobuharu Matsushita
6th in FIA F2, 2 wins, 4 podiums
Nobuharu Matsushita, ART Grand Prix
Photo by: FIA Formula 2
After two promising but inconsistent seasons at GP2 level, Honda protégé Matsushita faced a make-or-break campaign in 2017 – and ultimately fell some way short of the championship top-three target his paymasters had set for him.
But that shouldn't take away from what was a much improved year for the 24-year-old, who was one of only three drivers (the others being Rowland and Markelov) to take a pole position off Leclerc all season.
A first feature race win remained beyond his grasp, but he did rack up two more sprint race victories, and was a much more consistent presence in the points. A return to Japan in the Super Formula series with Stoffel Vandoorne's old Dandelion team now beckons. Jamie Klein
18.  Marcus Armstrong
Italian F4 champion, German F4 runner-up, 4th in Toyota Racing Series, 11 wins, 31 podiums
Marcus Armstrong, Prema Powerteam
Photo by: Alexander Trienitz
F1 teams signing juniors based on only their karting prowess is risky business, but Armstrong has done plenty this year to prove Ferrari was correct to sign him in January.
Armstrong was the star in this year's German and Italian F4 championships, winning the latter and missing the crown by three and a half points in the former. Even more impressive was his showing in the Toyota Racing Series, where he faced and beat a number of F3-level drivers.
He is clearly the next exciting Kiwi talent, but it will be crucial for Armstrong to carry his strong form to the next level in 2018, if he is to stand out in what is now a stacked Ferrari junior squad. DG
17.  Sacha Fenestraz
Eurocup Formula Renault 2.0 champion, 7th in Macau GP, 7 wins, 17 podiums
Sacha Fenestraz, Josef Kaufmann Racing
Photo by: DPPI
The Eurocup Formula Renault 2.0 championship hasn't missed a beat for a while when it comes to its champions, and it doesn't look likely that Fenestraz will be a flop either.
Brother-in-law to Jose Maria Lopez but racing under a French licence, Fenestraz dominated the second half of the season with six pole positions and five wins in the last nine races, claiming the title with a comfortable gap to his pursuers.
To top it off, he sampled F3 at the Nurburgring and scored his first point on his debut before finishing seventh at Macau with limited knowledge of the car. A likely full-time switch to F3 is logical, and would leave him as one of the most exciting rookies on the grid. DG
16.  Luca Ghiotto
4th in FIA F2, 1 win, 7 podiums
Luca Ghiotto, RUSSIAN TIME
Photo by: FIA Formula 2
Finishing a sophomore F2 season fourth, with your more experienced teammate within reach, is certainly no disaster. Ghiotto can rightly point to a few fine drives, his role in Russian Time's teams' title and the fact he scored in more races than anyone else on the grid.
But while a solid effort, the campaign didn't quite leave the same impression as his breakthrough GP3 season in 2015 and the strong rookie effort in GP2 last year.
A welcome mid-year Williams F1 test call-up shows he's on the radar, but he could really do with another year in top F2 machinery, and that will be hard to arrange for 2018. Valentin Khorounzhiy
15.  Jake Hughes
5th in European F3, 1 win, 7 podiums
Jake Hughes, Hitech Grand Prix, Dallara F317 - Mercedes-Benz, Callum Ilott, Prema Powerteam, Dallara F317 - Mercedes-Benz
Photo by: FIA F3 / Suer
Fifth place in the final European F3 standings for Hughes represents a strong achievement, especially as the GP3 convert languished down in 13th in the points after a troubled opening three rounds while his Hitech squad struggled to get its head around the new-for-2017 aerokit.
Things improved from Budapest onwards, but it wasn't until the Nurburgring that the Birmingham-born 23-year-old finally broke his victory duck – although he should really have won at the Norisring before being taken out late on by an overzealous Norris.
Now he's set to follow in the footsteps of his Hitech predecessor Russell by joining the ART GP3 squad, where his previous experience with DAMS would make him the marginal title favourite. JK
14.  Nicholas Latifi
5th in FIA F2, 1 win, 9 podiums
Nicholas Latifi, DAMS
Photo by: FIA Formula 2
Latifi's prior career record was not particularly inspiring, but recurring flashes of potential suggested there was more to him. And 2017 was proof that indeed there is.
The Canadian not only won his first race in three years, but ran his DAMS teammate Rowland much closer than expected over the whole season.
Rowland suggested Latifi was "as fast as anybody" on his day. If, as looks likely, the Canadian remains with DAMS for a third year, you'd expect it to be Latifi's day a lot more often – and that could make him a genuine threat for the title. VK
13.  Daniel Ticktum
7th in Eurocup Formula Renault 2.0, Macau GP champion, 2 wins, 4 podiums
Podium: Race winner Dan Ticktum, Motopark with VEB, Dallara Volkswagen
Photo by: Alexander Trienitz
Ticktum's return to racing after his one-year ban couldn't have ended any better. While he was only seventh in Eurocup Formula Renault, the Red Bull junior ventured into both GP3 and F3, and left a big impression in both categories.
He might have won Macau thanks to the top two crashing at the final turn, but he earned the crown with an audacious double-overtake on Norris and Gunther at Lisboa.
He also pulled DAMS out of a big slump in GP3 with one third and two fourth places in five races, outscoring the rest of the team's efforts all year by 20 points. F3 is his likely destination next year, and he's already among the favourites. DG
12.  Nyck de Vries
7th in FIA F2, 1 win, 5 podiums
Nyck De Vries, Rapax
Photo by: FIA Formula 2
De Vries' single-seater career looked down for the count at one point during the off-season, but a move to F2 eventually materialised – and paid off.
He was not the star rookie of the year, and costly mistakes in Baku and Monza left him lower than he should've been in the standings. But he certainly looked quick enough oftentimes, despite financial trouble at his squad Rapax and then a subsequent mid-season change of teams.
Yet the recently-announced Prema deal ensures it's next season, not this one, that could prove career-defining. Once touted as an F1 star of the future, he should have the machinery to establish himself among the A-listers once more, and it is an opportunity he must make the most of. VK
11.  Pietro Fittipaldi
Formula V8 3.5 champion, 6 wins, 10 podiums
Pietro Fittipaldi, Lotus
Photo by: Dutch Photo Agency 
While the Formula V8 3.5 title fight was open until the very end, ultimately there is no denying that Fittipaldi was by some distance the best driver in the field.
The Brazilian had several dominant weekends and, if not for chronic clutch woes early in the year, his coronation would not have been postponed until the season finale.
The series might have seen better days, but Fittipaldi sealing the title is still an important feat, and one that should put him back on the road towards his ultimate goal of F1.
The 21-year-old looks set to move to F2 along with his current Charouz team, which, in going up against some of the biggest talents of his generation, would represent his toughest test yet. DG
10.  Nirei Fukuzumi
3rd in GP3, 2 wins, 6 podiums
Podium: Nirei Fukuzumi, ART Grand Prix
Photo by: GP3 Series Media Service
Out of Honda's three juniors currently being evaluated in Europe, Fukuzumi has proven himself to be the arguably best bet for the brand to represent Japan in F1.
While countrymen Matsushita and Tadasuke Makino had lower-key years, Fukuzumi lived up to the expectations of driving for ART in GP3. He was the only driver to win more than one feature race apart from champion Russell and, while the title was ultimately beyond reach, he was seemed largely on par with eventual runner-up Aitken.
Next year he is set to start his Formula 2 career, joining the Arden squad, and it will be interesting to see if he can surpass Matsushita's achievements. DG
9.  Maximilian Gunther
3rd in European F3, 5th in Macau GP, 5 wins, 16 podiums
Maximilian Günther, Prema Powerteam Dallara F317 - Mercedes-Benz
Photo by: FIA F3 / Suer
Gunther spent much of the season leading the F3 standings, but that was more reflective of few unforced errors than outright pace supremacy. He eventually hit a rough patch just as Norris was surging, and that was that.
Still, it's another solid enough year for a good driver who long looked a shoo-in for an eventual Mercedes DTM seat.
Now that particular move looks unlikely with Pascal Wehrlein tipped for the sole free 2018 drive and the subsequent end of Mercedes' DTM programme looming large.
If this will have kept Gunther in single-seaters – and his presence in the F2 post-season test is an encouraging sign – perhaps it'll be a blessing in disguise. VK
8.  Callum Ilott
4th in FIA F3, 6 wins, 11 podiums
Callum Ilott, Prema Powerteam, Dallara F317 - Mercedes-Benz
Photo by: FIA F3 / Suer
There are two ways of looking at Ilott's third season in European F3. Fourth overall, nearly 100 points behind champion Norris, with the historically dominant Prema team might seem disappointing from the touchlines.
But at the start of the year Ilott was eager to underline his relative lack of car racing experience, especially compared to Prema teammate Gunther - and through this prism, his tally of 10 poles and six wins seems rather more impressive. He also showed promise in a one-off F2 outing at Silverstone.
Clearly, Ferrari could see beyond the headlines and signed Ilott up to join its Academy at season's end. He's still only 19, so a season of consolidation in GP3 with top team ART looks like the right move. JK
7.  Jack Aitken
2nd in GP3, 1 win, 6 podiums
Jack Aitken, ART Grand Prix
Photo by: GP3 Series Media Service
It was yet another solid season from Renault junior Aitken, who took the chance of driving an ART in GP3 with both hands by being one of the benchmark drivers of the field.
While the gap was 79 points between champion Russell and him in the end, Aitken's performance was not that far off his teammate's on average. He failed to score points in a third of the races, which in the end was the main reason we didn't see the title fight remain open until the season finale.
Ultimately, it was a respectable, if not remarkable, campaign from Aitken, who will be an exciting prospect in Formula 2 should he make the step up with ART as he is expected to. DG
6.  Artem Markelov
2nd in FIA F2, 5 wins, 7 podiums
Artem Markelov, RUSSIAN TIME
Photo by: FIA Formula 2
The idea of any achievement in a fourth season of a category – especially F2/GP2 – often invites scoffs and derision, but Markelov's progress does deserve recognition. A fair number of drivers have had more time in GP2 and achieved less.
Admittedly, two of his five wins were the result of rivals' post-race disqualifications and he was fortunate to beat Rowland to runner-up in the points. But he was still a reliable frontrunner, and came out the winner in an intra-team battle with the highly-rated Ghiotto.
The big question now is where Markelov goes from here. He has little left to prove in F2 and while he doesn't appear at all underfunded, F1 will remain a closed door without the kind of budget all but a select few do not have. VK
5.  Oliver Rowland
3rd in FIA F2, 2 wins, 10 podiums
Oliver Rowland, DAMS
Photo by: FIA Formula 2
Has Rowland cumulatively done enough to earn an F1 shot? Yes. Is it a surprise he hasn't got one? No.
Having never been among the richest drivers around, Rowland needed to dominate F2 this season to force himself into the F1 conversation. That was not an option, so good were Leclerc and Prema, but while the Brit wasn't helped by a couple of ill-timed disqualifications, he probably should've made it a closer title fight regardless.
He's still absolutely one of the best in junior racing. But he can't buy a grand prix seat, and he's running out of time to convince an F1 team – any F1 team - to pick him over somebody who can. VK
4.  Joel Eriksson
2nd in FIA F3, 7 wins, 14 podiums
Race winner Joel Eriksson, Motopark Dallara F317 - Volkswagen
Photo by: Alexander Trienitz
When Eriksson became a BMW junior in 2016, it was pleasing to see a young driver secure his future. But so strong was the Swede this year that that very same connection now threatens to rob F1 of a genuine prospect.
Eriksson was expected to be a frontrunner, but not to beat projected title favourites Gunther and Ilott. Yet he did exactly that, and although he couldn't stop Norris, he still enjoyed an outstanding campaign, being one top-two finish away from taking first or second in half of the 30 races.
The Swede deserves a chance in F2, but BMW seems to have other plans, as Eriksson is looking set for a step up to DTM in 2018. DG
3.  George Russell
GP3 champion, 4 wins, 7 podiums
George Russell, ART Grand Prix
Photo by: GP3 Series Media Service
Two years ago, a shot at F1 was only a pipe dream for Russell, who had set himself the more realistic target of securing a DTM drive. But that all changed when Mercedes picked up the phone last year.
That was followed by a superb GP3 season in which Russell outclassed two other highly-rated F1 junior teammates, Aitken and Fukuzumi, scoring exactly half the poles and half the feature race wins available – leaving rivals to squabble over the scraps.
Now the personable and supremely talented 19-year-old from King's Lynn is on the cusp of a move to the pinnacle of the sport, with a Force India reserve driver deal seemingly in his pocket.
He'll combine that role with a step up to F2 with ART, where he'll once again be pitted against Aitken. If anyone can lead a return to past glories for French team, it's Russell. JK
2.  Lando Norris
European F3 champion, 2nd in Macau GP, 9 wins, 21 podiums
Checkered flag
Photo by: FIA F3 / Suer
Few expected Norris to be able to take the crown in his first season of European F3, and yet he defied expectations to become the first non-Prema champion in the category since Edoardo Mortara in 2010.
His season wasn't perfect – a number of fluffed starts and incidents cost him early in the year – but there were occasions when he was simply untouchable. After he scored six wins in nine rounds in the late summer, it was clear he would not be denied.
Norris is one of those drivers with a certain aura around him, a result of the self-confidence needed to succeed at the highest level. A future drive in F1 – with McLaren or elsewhere – seems all but certain.
Before that, he faces the challenge of spearheading Carlin's return to F2, a series notoriously tough on rookies. But, like this year's champion Leclerc, Norris has proved he is no ordinary rookie. JK
1.  Charles Leclerc
FIA F2 champion, 7 wins, 10 podiums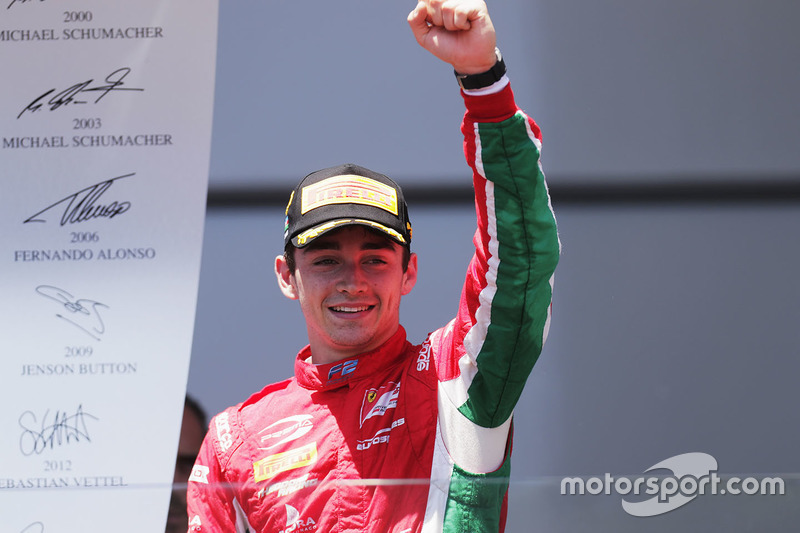 Podium: race winner Charles Leclerc, PREMA Powerteam
Photo by: FIA Formula 2
There is no right or wrong way when it comes to coping, but there was something genuinely inspirational about Leclerc – worn out and sleep-deprived in the wake of a family tragedy – putting on a masterclass at Baku.
That was arguably the defining moment in a campaign where he ruled the F2 field with an iron fist, getting more than anybody out of the famously rookie-unfriendly GP2/11 over one lap and reliably adding a dash of spectacular in the races.
His brilliant Prema team deserves a fair bit of the credit, but this was remarkable stuff from Leclerc all the same and it quickly elevated him from being one of a number of F1-level talents to potentially the sport's next big thing.
There can be genuine concerns about expectations being too high for his Sauber F1 move, but let's leave them for 2018. In the world of junior racing, seasons don't get much better than this. VK
About this article
| | |
| --- | --- |
| Series | FIA F2 |
| Drivers | Lando Norris , Oliver Rowland , Jack Aitken , Charles Leclerc , Sacha Fenestraz , Nicholas Latifi , Maximilian Gunther , Artem Markelov , Nyck de Vries , George Russell , Dan Ticktum , Luca Ghiotto , Callum Ilott , Nobuharu Matsushita , Marcus Armstrong , Joel Eriksson , Alessio Lorandi , Jake Hughes , Nirei Fukuzumi |
| Teams | Carlin , ART Grand Prix , UNI-Virtuosi , Rapax , Arden International , Jenzer Motorsport , DAMS , Prema Powerteam , Motopark , Josef Kaufmann Racing , HitechGP |
Motorsport.com's Top 20 junior single-seater drivers of 2017