Arrow Schmidt Peterson race report, Round 5 – IndyCar Grand Prix
There were high points for everyone involved in the Arrow Schmidt Peterson Motorsports program on the Indianapolis road course last weekend, and it was Jack Harvey in the AutoNation/SiriusXM Meyer Shank Racing with Arrow SPM machine who made the big impression with his first podium, writes David Malsher.
Last Saturday's IndyCar Grand Prix on the Indianapolis Motor Speedway was one of the most memorable races of the past several seasons in a series where entertaining events are the norm. With the event compressed into just two days, Friday and Saturday, teams were forced to get their house in order very rapidly. Just two 45-minute practice sessions were followed by qualifying, all in one day, and the traditionally fickle Indiana weather threw the teams a curve ball.
The weather forecasters had got it right and it was, as promised, very cold – ambient 55degF, track temperature 65degF – and so the Honda teams such as Arrow SPM that had tested on the 2.439-mile course the week before in 80degF weather had acquired a lot of data that no longer applied. In the frigid conditions of race weekend, the tires were taking far longer to warm up and Firestone had brought along a new alternate compound tire, about which the teams could only make projections rather than work off track-proven data. Teams are not permitted to test on the softer tires.
Marcus Ericsson, Arrow Schmidt Peterson Motorsports Honda
Photo by: Scott R LePage / LAT Images
Arrow SPM rookie Marcus Ericsson was reasonably happy with his qualifying performance for the IndyCar Grand Prix, scoring the best grid slot of his nascent IndyCar career in ninth. The ridiculously close nature of the NTT IndyCar Series, particularly around this track, meant that finding just 0.1sec would have put him fourth fastest! Veteran teammate James Hinchcliffe went in a different setup direction in qualifying and wound up only 18th: like many teams and drivers, he was left scratching his head because his car felt good but just wasn't producing the expected lap time.
Come the race, their fortunes soon reversed. Ericsson was pressuring three-time IndyCar GP winner Will Power for ninth place on the 12th lap when he got a little too close to the Penske car in the long Turn 14 curve onto the pitstraight. The front end lost downforce and understeered, then it suddenly gripped again and sent the tail swinging out, looping the #7 Arrow SPM-Honda backward into the wall. After a restart from the AMR Safety Team, Ericsson limped the car back to pit lane but the damage was bad enough for the team to retire the car.
James Hinchcliffe, Arrow Schmidt Peterson Motorsports Honda, with race engineer Will Anderson.
Photo by: Michael L. Levitt / LAT Images
The strategy for Hinchcliffe's side of the team was ambitious and it very nearly worked. Because each car is obliged to run at least one set of both the primary and the alternate tires in the absence of rain, the #5 car was put onto the primary tires at the start but the team determined to pit Hinch at the first available opportunity to take on the softer red-sidewalled alternate tires. This was by far the most suitable compound for the still chilly conditions, since it warms up faster and therefore generates more grip.
Sure enough, on the harder primaries, Hinchcliffe was skating around like Bambi on the frozen lake, but when his teammate's shunt brought out the first full-course caution, the #5 Arrow SPM-Honda was brought in for the 'reds' and committed to an off-sequence strategy. Even when he struck Ryan Hunter-Reay's car on a restart and was served a drive-through-pitlane penalty, James was able to set a strong pace so that when the 'on-sequence' cars pitted he was able to lay down his fastest lap of the race and move into fifth place. The same sequence next time around saw him move up to third, and then during the third caution period, he optimistically grabbed another set of reds.
However, during this elongated period under a full-course yellow, rain arrived and Hinchcliffe and many others had to pit yet again for rain tires. Over the closing quarter of the race on a rain-soaked track, a few lurid incidents in the difficult conditions saw him fall out of the Top 10, eventually finishing 16th.
Jack Harvey and the Meyer Shank connection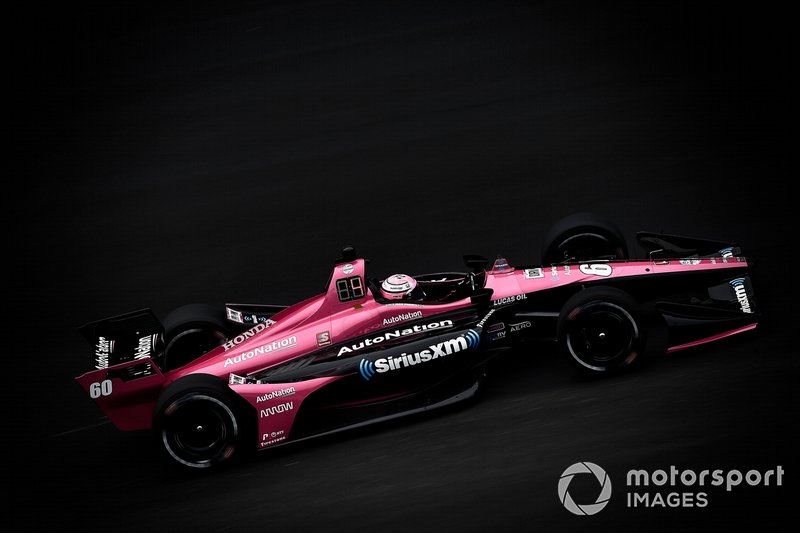 Jack Harvey's Meyer Shank Racing with Arrow SPM-Honda carries the Arrow logo (just ahead of the rear wheels) and also has the livery layout of its sister cars.
Photo by: Scott R LePage / LAT Images
The most heartwarming story of the race came courtesy of the sister car to the #5 and #7, that is, the Meyer Shank Racing with Arrow SPM entry driven by Jack Harvey, which qualified and finished third.
Harvey, the 2012 British Formula 3 champion and two-time runner-up in the Indy Lights championship for Schmidt Peterson Motorsports, last year proved how tough it is to be an IndyCar part-timer in the current era. The competition is so tough, the lap times so compressed, that a team not competing in every round is conceding two or three tenths in qualifying which can equate to eight or nine grid slots. And of course where a driver starts will shape his strategy and his race and contribute to where he finishes.
In 2017, Harvey made his IndyCar debut driving for Michael Shank Racing in partnership with Andretti Autosport in the Indy 500 and it ended in an accident after he ran over someone else's crash debris. Later in the year he rejoined Arrow SPM for two races to replace Mikhail Aleshin and Jack looked impressively close to temporary teammate Hinchcliffe; with a bit more experience, he could surely make strides.
Last year, Shank and new partner Jim Meyer entered six IndyCar races in a technical partnership with Schmidt and Peterson, and Harvey showed flashes of promise, but still the gaps between races were hurting him in comparison with his full-time rivals. However, with 10 races confirmed for 2019, including the first six, Harvey's had consistency, and his confidence has built, so that he's now delivering as much useful feedback as he's receiving from Hinchcliffe and Ericsson.
Last weekend on the IMS road course, a venue on which he'd won in Indy Lights four years earlier, Harvey was hugely impressive, contending for pole, qualifying third, and finishing third. Perhaps most significant was the fact that he was extremely fast in the dry, the damp and treacherous, and the outright wet conditions. This despite the fact that it was his first ever wet IndyCar race, and only his 14th IndyCar race altogether!
"I think everybody at Meyer Shank Racing and Arrow Schmidt Peterson Motorsports has done an absolutely fantastic job," he said afterward. "But to share the podium with [Simon Pagenaud of Team Penske and Scott Dixon of Chip Ganassi Racing] I think is pretty special.
Jack Harvey is a 26-year-old who won the 2012 British Formula 3 championship and twice finished runner-up in Indy Lights, driving for Sam Schmidt and Ric Peterson.
Photo by: Scott R LePage / LAT Images
"I think we've been on the edge of a good result like this for a while, but actually trying to gel those pieces, put it all together, has been tricky, so that's why I think you have to enjoy every podium, every win that comes – especially in this place. I feel like the Indianapolis Motor Speedway is a racing driver's Neverland: it's where we come to try and not get old!"
The 26-year-old Briton went on to explain how important it has been to have the consistency that his rivals enjoy by competing in consecutive events. This was his seventh race in succession, having competed in 2018's final two rounds at Portland and Sonoma.
"From last year at Sonoma to today, we haven't missed any testing, we've not missed any practice, we've not missed anything," he said. "The momentum I've been able to gain, the confidence just by being in the car at least as often as everybody else has been great because things feel 'normal' to me. [So] the next weekend I can go out and start working on techniques and issues – this is how I'm going to find speed.
"I thought our pit stops [in the IndyCar GP] looked pretty solid… so I don't think it's exclusive just to the driver about building a rhythm, feeling comfortable, gaining more confidence: that applies to the team, as well. This team is gelling, and I think we all feel like we've been right on the edge of this result, and I think the difference is that instead of talking about it we showed it."
The budding promise shown by Meyer Shank Racing with Arrow SPM is something that Harvey hopes will ultimately bloom into a full-time campaign, with loyal sponsors AutoNation and SiriusXM adorning the flanks of his car.
He explained: "It was always a two-year deal – six races last year, 10 races this year – and we hope it might build into something bigger again in 2020. I think trying to do it with Arrow Schmidt Peterson Motorsports has been great. I raced Indy Lights with Sam, so I know a lot of people there and I did two races in '17 with them, as well. So being able to have that technical relationship with them has proved to be quite a big help.
"When we get in the engineering room we operate as two teams with a three-car effort. James and Marcus are great teammates to have. They both have a lot of experience in multiple different racing forms – James is a long-term IndyCar race winner and seasoned veteran, and Marcus has been in Formula 1 for several years. They bring a lot of experience to the team, a lot of good ideas, and we push and bounce around different ideas.
"We push each other to be better. Some weekends one of us has just a little bit of an edge, and I can tell you that we all work extremely hard to be the one who's got the edge! I think what makes a successful team is being competitive with each other, being fair with each other, but also to a larger degree being open with each other – what was good, what was bad, what worked, what didn't work – and how collectively we get the best possible results.
"I think the perfect day for the whole team is if we lock out the podium just with the #5, the #7 and the #60 car, so that's what we're going to keep working hard to try and do."
And now for the Indy 500 it has been confirmed that seasoned veteran Oriol Servia will provide a fourth stream of data and feedback via his #77 MotoGator Team Stange Racing with Arrow Schmidt Peterson Motorsports entry. The action starts today: the proof of the team's compatibility and combativeness will be this weekend in qualifying, and Memorial Day Weekend in the 103rd Running of the Indianapolis 500.
About Arrow Electronics
Arrow Electronics guides innovation forward for over 200,000 leading technology manufacturers and service providers. With 2018 sales of $30 billion, Arrow develops technology solutions that improve business and daily life. Learn more at fiveyearsout.com.
The Arrow Schmidt Peterson Motorsports Hondas of James Hinchcliffe, Robert Wickens and Marcus Ericsson.
Photo by: Arrow Schmidt Peterson Motorsports
Arrow Schmidt Peterson race report, Round 5 – IndyCar Grand Prix