Promoted: Weekend of pleasure, pain and pride for Arrow SPM
Arrow Schmidt Peterson Motorsports' James Hinchcliffe, Marcus Ericsson and Robert Wickens all took turns in the spotlight at Honda Indy Toronto, and each of them had a special memory to take home. David Malsher reports.
For Wickens, of course, it was all about strapping into the Arrow-modified Acura NSX to run a couple of fast laps of the 1.786-mile street course and also the parade lap before the start of the race (see story below). For Hinchcliffe, the satisfaction came from passing more cars than anyone else to climb through the field and finish sixth. For Ericsson, it was about bouncing back from Lap 1 damage to set the fastest lap of the race.
Ericsson, in fact, had a torrid Friday, as he sought to learn the intricacies of the track in as short a time as possible. In second practice he smacked the notorious Turn 11 wall with his right-rear tire – as so many rookies and experienced drivers did last weekend and in the past – bounced off the Turn 5 wall and had a near miss with another tire barrier.
"It's a very difficult track with all the bumps and patches of concrete in the corners so it takes a bit of time to get your head around it," he commented afterward. The following day, another brush with a wall during qualifying left him an unrepresentative 20th on the grid. Not only does that leave a driver with a lot of work to do come race day, it also renders him vulnerable to first-lap pile-ups.
Marcus Ericsson, Arrow Schmidt Peterson Motorsports Honda, Toronto
Photo by: Scott R LePage / LAT Images
And sure enough, when Will Power, Graham Rahal and Marco Andretti collided at Turn 8, Ericsson saw there was nowhere to sneak through and wisely sent the #7 Arrow SPM-Honda into the escape road, but Matheus Leist slid into him and broke his left-rear suspension.
Having limped back to the pits for repairs, the crew somehow had the car fixed in the space of four laps, and with nothing to lose and much to prove, Ericsson rejoined the fray. Impressively, his 58th lap was faster than anyone turned all day.
"Today was probably one of my better races of the year, to be honest, even though the result is obviously very disappointing and not where we want to be… The pace we showed was great; we were the fastest car for nearly the whole race and set the fastest lap. I think that shows the potential we had.
"We just need to keep believing in what we're doing, keep working hard, put together a weekend, and we'll be right up there fighting for podiums and wins again."
Hinchcliffe chiseled away at his setup through practice and missed by just a couple of hundredths of a second from making it into Q2, but he remained optimistic for Sunday. And with good reason, as it turned out.
"Tire strategies across the board were pretty identical, the fuel strategy was pretty identical," he reflected afterward. "There were no yellows to close the gaps and give us a chance on restarts.
"So, picking up eight spots to finish sixth is a pretty solid day. The Arrow car was really strong and the guys were good in the pits. Honestly, from where we started, to how the day played out, I think we can be pretty proud of that."
James Hinchcliffe, Arrow Schmidt Peterson Motorsports Honda
Photo by: Geoffrey M. Miller / LAT Images
Wickens wows the crowd
Photo by: IndyCar Series
Last week, Motorsport.com documented Robert Wickens' return to driving with Arrow's Acura NSX that allows him to use hand controls for the throttle and brake. The project was a resounding success, as anyone who witnessed it would agree.
Robert is not overburdened with ego. Like most top racers, he has pride and desire that together form the core of his determination to succeed, but he doesn't feel the need to boast about his achievements.
That's not going to stop the rest of the world from boasting on his behalf though. Because what he has accomplished in the 11 months since suffering a spinal cord injury in a crash at Pocono Raceway has required the same amount of bravery, commitment and drive as his 20 years of highly successful racing career.
Embed:
When Wickens sat in the Arrow-modified Acura NSX to perform a hot lap at Toronto just a couple of days after testing it for the first time at Canadian Tire Motorsports Park (above), he could have been forgiven for looking like the cat who got the canary. Not being a gloater but determined to take this further, of course, his demeanor was that of the canary who had beaten up the cat and now has his eyes set on the rottweiler…
"It's just been quite the ride, and we're not even one year in of what's going to be a very long recovery," he said. "But hopefully I can keep on driving because I think that's the best therapy I can have, and I'm a little bit concerned by how eager I am to get back in the car… It's kind of like the angel and the devil on each shoulder because once I get back into racing full-time, the rehab is almost going to be sidelined, and then I need to figure out at what point I am OK to start driving again and almost give up on rehabbing.
"That's a future problem. Right now we can just focus on this event and how fun it's going to be."
He had fun, that's for certain. Trackside and on TV, it was possible to hear the NSX's tires squealing over the noise of its 3.5-liter twin-turbo V6. Fiancee Karli Woods (just about) maintained her composure in the passenger seat, but the local crowd lining the track were much more vocal, especially when Robert slowed on a couple of corners so he and Karli could wave to the grandstands.
Throughout his rehab, said Wickens, his fans had offered huge support, and he even described himself as lucky; he appreciated that others with similar spinal cord injuries don't have a vast network of people willing them to leap the next hurdle in the rehab process.
"You get to become friends with these patients and you hear their story," he mused, "and then I get back to my place at the end of the day and I kind of think, 'Man, I'm so lucky that I have such great support everywhere.' If I'm having a bad day, all my fans can just come and pick me up where anyone else can easily get into this big spiral and get into some depression."
Describing the fan support he'd felt in person, he added: "Everyone is just so supportive of me in my recovery to get back, and the IndyCar fans are some of the best in the business. They're so loyal and they're so passionate. It's them that really kind of picked me up on my down days, and being here, seeing so many hats and shirts, it makes me want to get back. I want those guys to have a reason to wear the shirt, not to make it a pajama shirt or something!"
Mike Long, chairman, president and CEO of Arrow Electronics, Robert Wickens, and Ted Klaus, president of Honda Performance Development.
Photo by: IndyCar Series
Mike Long, chairman, president and CEO of Arrow was also present in Toronto, and stated that the company will carry on working on modified hand control systems to allow Wickens to return to IndyCar.
Long said: "[The system] is very adaptable. In fact, what we try to do at Arrow is not come up with complex technology that's not going to be suitable. We're showing off this technology because this technology could be for anybody in the world with Robbie's problem to get back on the road with a car and drive their own way.
"So that's really what drives us – trying to do good. We will continue to develop this all the way back to the Indy car for Robert, whatever he may need, and there will be certain pressures that I'm sure will be put on IndyCar to allow it to happen.
"It's no different than golf or other sports where you've seen people with certain handicaps being able to compete with people that don't have them, and we think this is nothing different.
"So I'm totally convinced we can put Robert back in a car. It will be possible for him to drive, and we won't stop until he gets there."
Naturally, Wickens' long-time friend, teammate and rival James Hinchcliffe was asked about witnessing Robert's return to action, and leading the field on the parade lap.
"That was obviously really cool," said Hinchcliffe. "I was already strapped in the car. We didn't get to see the TV. I was just kind of watching everybody's reaction. I could tell when he was getting close to a wall [and] Karli's face was lighting up based on how everybody was reacting. You could hear the cheers every corner of the racetrack even from inside the car.
"Awesome to see him back on track, awesome to see the support he's had."
Given the pressure he's already under performing in front of a home crowd – Hinchcliffe currently is the only Canadian full-time IndyCar driver – and the need to press the flesh with local sponsors and well-wishers, Hinch was asked if the Wickens process had been an additional distraction. Quite the opposite, James replied.
Wickens wheels the Arrow-modified Acura NSX down the front straight to Princes' Gate.
Photo by: IndyCar Series
"Obviously it's not every day that something quite that cool happens right before you get in the racecar," he explained. "We're shaking hands with sponsors, taking pictures with fans up to the minute you put your helmet on. I don't think there's another sport where we're interacting with people outside our program so close to game time. We're really seasoned at being able to flip that switch almost instantly. So this is kind of a good example of that.
"Like I said, this particular thing was a little more emotional, a little cooler than what you normally have distracting you before a race. I think, if anything, it certainly lifted me up and I think it lifted up every driver on the grid because we were all so happy to see it happen."
He's not wrong: all IndyCar participants truly have come together like a family to support Wickens, although usually under the radar, out of respect for Robert's privacy. But put on the spot at Toronto, both reigning champion Scott Dixon and Wickens' fierce rival in several categories of racing, Alexander Rossi, paid tribute.
Said Dixon: "The effort the guy is putting in is unbelievable. Six to eight hours a day he's been working. He's definitely giving it everything. He's seeing good gains.
"It was impressive to see him back here, him and Karli going around today. Just seeing the crowd's reaction, it definitely put a smile on everybody's faces. Definitely cool to see."
Added Rossi: "So proud of him, the fact that he's back here in a car less than a year from his incident, in his hometown of Toronto, at the race he fell in love with as a kid. Amazing to see him be able to do that.
"As we were all in the cars waiting for the pace car to roll, we kind of watched – I watched his lap on the screen. To hear the cheers for him through Turns 9, 10, 11 was pretty special. Put a smile on my face. I'm sure he had fun doing it."
He did. But like the man himself said, this is just one more step toward the ultimate goal: strapping into an IndyCar once more.
About Arrow Electronics
Arrow Electronics guides innovation forward for over 200,000 leading technology manufacturers and service providers. With 2018 sales of $30 billion, Arrow develops technology solutions that improve business and daily life. Learn more at fiveyearsout.com.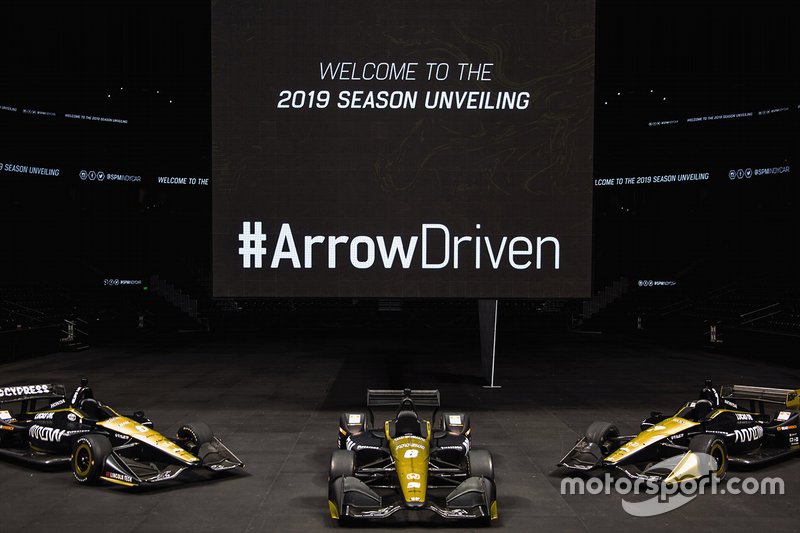 Arrow Schmidt Peterson Motorsports Hondas of James Hinchcliffe, Robert Wickens and Marcus Ericsson.
Photo by: Arrow Schmidt Peterson Motorsports
Promoted: Weekend of pleasure, pain and pride for Arrow SPM