A crazy IndyCar schedule and Arrow SPM's hyper-quick turnarounds
From the IndyCar GP on the IMS road course to Indy 500 practice and qualifying, to Indy 500 race, to two street races in Detroit, to Texas Motor Speedway's 1.5-mile oval – all in the space of a month. Arrow Schmidt Peterson Motorsports' competition director Billy Vincent explains how he and the crew keep answering the bell. David Malsher reports.
The NTT IndyCar Series has marketed itself as demanding the most versatile racecar drivers in the world, with its mix of road courses, street courses, short ovals and superspeedways. But the demands it puts on the crews and engineers is just as severe, and even more labor-intensive. The only solace for (most but not all) team members in their two-and-a-half weeks at Indianapolis Motor Speedway is that they get to go home each night. The end of the five-weekend spell, at Detroit last weekend and Texas Motor Speedway this weekend, affords no such luxury, prepping the car Arrow SPM-Hondas of James Hinchcliffe and Marcus Ericsson.
We were surprised when Billy Vincent, competition director, found even one minute to record the video above, and we're grateful he was able to expand on the details for Motorsport.com…
Billy Vincent, Arrow Schmidt Peterson Motorsports' competition director, pictured just before the relentless grind of IndyCar's April/May/June schedule.
Photo by: Veronica Knowlton, Arrow SPM
DM: How are you dealing with the most excruciatingly tiring part of the year for team personnel?
BV: It's tough, I don't think anyone would deny that. The Month of May – Indy – actually starts right after Long Beach as far as we're concerned. That's when the death-march through to Texas this weekend really starts, so that's seven weeks on the go. Remember, post-Long Beach wasn't just prepping cars before the 500. First we had to take the #7 car to Texas for Marcus' oval rookie test and then we had a one-day turnaround before the Indy test in late April, then back to the shop for a one-day turnaround before the Honda test on the Indy road course.
So it was pretty much non-stop from Long Beach onward. The double-header at Detroit always feels like the most tired we're going to be, running on fumes. You leave the paddock each evening and go back to the hotel and try and get as much sleep as possible, and you're just praying your cars come back in one piece – which is hard around that place. You want your drivers to give 101 percent but without using the barriers…
But in the back of your mind while you're at Detroit, you know it's not the most tired you're going to be because obviously we've got Texas the next weekend!
And there's no real way of minimizing that workload, I guess: even if you had double the staff, you'd all still be putting in the hours.
It's about staying organized. Like we were talking about a couple of weeks ago when we managed to get James back out for Indy qualifying after his crash, it's about preparation and schedules.
Going back a bit, after qualifying and practice for the 500, those two or three days before Carb Day, you're prepping your oval cars for Carb Day practice [two days before the Indy 500] and the 500 itself, but you also have a schedule for starting to convert your back-up oval cars into street course cars for Detroit. And you have specific targets you want to reach by the end of each day.
So by Carb Day, a perfect scenario is to have your two oval cars for Sunday fully ready to go, but also two road/street course cars ready for the Indy pitstop competition – which our #7 crew won, so that was a great morale booster! – and they are also the ones we ran at Detroit.
Hinchcliffe currently runs eighth in the championship, partly a result of his sterling drive from 32nd to 11th at Indy.
Photo by: Scott R LePage / LAT Images
Like I say that's the ideal… but because of where we were with the #5 car that got damaged, we had to wait until the Monday after the 500 to start converting James' oval car back to road/street course setup for Detroit, and then bring it along with Marcus' #7 road/street course car. We did that work at the Speedway: I figure if we're all set up at the track, there's no point in wasting hours dragging everything back to the shop, just to then send it out to Detroit. So we worked on the cars in the Indy garages and headed straight from there up to Detroit.
Meanwhile, the #77 car that Oriol Servia raced as our extra car in the 500 [the Team Stange Racing with Arrow SPM entry] was loaded first-thing the next morning at the Speedway and sent back to the raceshop for a strip down and rebuild as the Arrow #5 car for James to race in Texas.
So for a double-header like Detroit, how many cars did you have to take?
Two plus one spare and plenty of extra parts. Normally we'd bring two spares but we had that shunt in Indy qualifying, so we're playing a little bit of catch-up using Oriol's car. The #5 car that James raced in Detroit has been converted into his oval spare car for Texas. So that's us caught up again – two racecars, and two spares.
What would have happened if, God forbid, James and Marcus had shunted heavily in the first Detroit race?
Well as long as they don't both go through all the way to where you've got tub damage – which, touch wood, is pretty unlikely at street course speeds – then we have enough to rebuild two new cars. It would be painful for the crews and engineers, but we could do it. Like I said at Indy, as a team you've got to be prepared to get out of any situation at least once, so at Detroit we had a total spare car that would just need an engine fitted, and then two-to-three cars' worth of parts. And then Dallara was there, along with all our vendors like Honda, Xtrac [gearbox], and so on, so if the worst scenario happened in Race 1 and we had to get new parts, we could.
Obviously Jack Harvey and Michael Shank Racing weren't at Detroit – or rather, Shank was there but for IMSA – and they won't be at Texas. I assume when they're around, they can be relied upon to help out as an extra resource if absolutely necessary.
Definitely – and obviously that goes both ways: we'll help them if they need us. We've really liked working with those guys, it's a good relationship there, and I'll be pleased when they're back with us at Road America. And as much as anything, it's good to have the extra data and driver input from three cars: it benefits all three of us.
As an ex-racer in Indy cars, Arrow SPM co-owner Sam Schmidt can impart plenty of knowledge to rookie Marcus Ericsson.
Photo by: Geoffrey M. Miller / LAT Images
One of the things Sam [Schmidt] and Ric [Peterson] were targeting once Arrow Electronics came on board as a full partner was to expand the team so that not everyone was on the road. There would be a substantial crew back at the raceshop doing advanced prep for the next event…
Yeah and that started to happen, so while a lot of us were at Detroit, we also had quite a few guys back at the shop – the ones converting the #77 car into the #5 car for Texas, for example. We're still a smaller team for now, but the guys that worked with Team Stange running Oriol at the 500 were also our fabricators, sub-assembly guys, guys from the machine shop, and so on – folks who normally stay home on race weekends. So in answer to your question, yes, the staffing levels have expanded this year with Arrow coming onboard as partners for both the #5 and the #7.
But as the on-the-road warriors, you're all still going to feel beat by this Sunday morning, after a race the night before?
Er, yeah… you could say that! We thankfully got out of Detroit with both cars rolling – that's a good feeling in itself – and then getting a podium was very good feeling. We left right away that Sunday evening and got back to Indy around 1am, went home and slept and came back in around lunchtime, with the goal to have all four cars prepped and loaded for Texas by end of day Tuesday.
The trucks hit the road late Tuesday night/early hours Wednesday morning and got to Texas, ready to get into the TMS paddock early Thursday morning. That's when we get the trucks washed and staged and the rest of us hit the paddock early afternoon for the evening session – which is great for us, actually, because it gives a much more accurate indicator of what the cars are going to be doing and the tires are going to be doing at that same time of the evening two nights later when we race.
But having said that, after what we've been used to so far this year, I always think the Texas event feels a bit strange because it's our first night race and your body clock has to shift somewhat – first practice Thursday evening, second practice Friday afternoon, qualifying Friday evening, and the race on Saturday evening. On raceday we might not be getting to the track until 1 or 2pm, but you've got the 90-degree heat and so on and it's a long day.
Then we'll get one weekend's break before Road America, so next Monday and Tuesday is when we get reorganized, making sure everything is in the right place for the second half of the season. Everything gets pulled out of the trucks and checked off.
We might get a chance to take it a little easier for a couple of days, too, pull some normal hours…

So when you see the cars flitting by at 215mph under the floodlights at Texas Motor Speedway this weekend, remember the effort that got them there.
And rejoice for any team that gets all their cars home intact. That'll buy them at least one more day of rest. And they'll have earned it.
About Arrow Electronics
Arrow Electronics guides innovation forward for over 200,000 leading technology manufacturers and service providers. With 2018 sales of $30 billion, Arrow develops technology solutions that improve business and daily life. Learn more at fiveyearsout.com.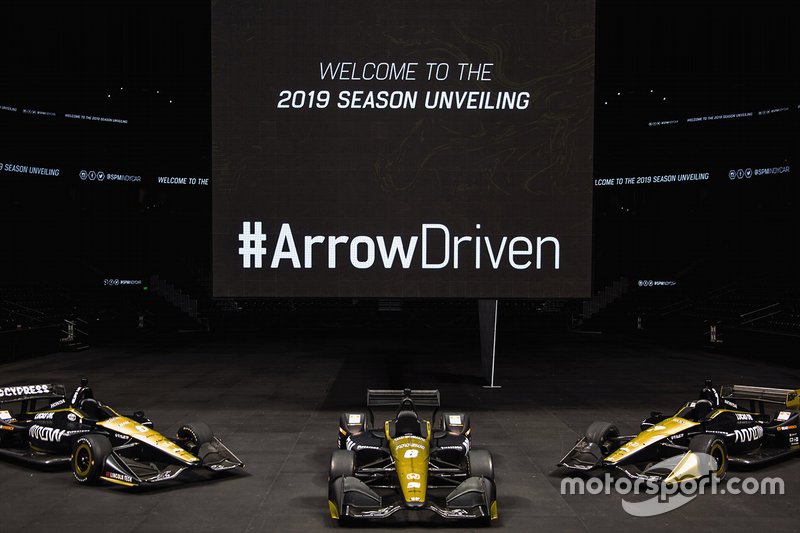 The Arrow Schmidt Peterson Motorsports Hondas of James Hinchcliffe, Robert Wickens and Marcus Ericsson.
Photo by: Arrow Schmidt Peterson Motorsports
A crazy IndyCar schedule and Arrow SPM's hyper-quick turnarounds