The quest for a perfect IndyCar setup often starts with understanding the Firestone tires. Marcus Ericsson's Arrow Schmidt Peterson Motorsports' race engineer Blair Perschbacher explains the complexities to David Malsher – and it begins with the fact that there's no substitute for on-track experience…
DM: Do simulators take into account tire degradation?
BP: No, not really. They're set up as if you have a new set of tires every lap! Honda spends quite a bit of time validating the tire model, but that's just to get it to match in ideal circumstances – and also, it's pretty much based on primary tires. There isn't a way to simulate the extra grip provided by the reds [the red sidewalled alternate tires]. We can turn up the grip but a sim can't quite replicate the feel that reds provide to the driver.
Can you explain why the reds sometimes don't just offer more grip but also fundamentally shift the handling balance of the car?
Yeah, it's simply a product of the rear tires being so much bigger than the fronts, so an increase in grip all around is going to shift the balance shift ever-more rearward. Say the grip from the alternates is 2 percent above what you have on primaries, then 2 percent of a bigger number – the grip from the rear tires – is going to make the rear stick better, and so that creates understeer. But all the race engineers and drivers know that, and when we change to the reds, all of us will also make a setup change to counteract that – and it can be as simple as cranking on more front wing, or it may be something more complex.
How big is the operating window that Firestone gives you in terms of tire pressures on any given weekend and can optimizing your car around that be the kind of advantage you need in qualifying or the race?
Oh sure, the window that Firestone give us to operate in is pretty big, so if you want to try something different – and we do quite often work at the edges of it, depending on what's required – there is room to do that. We meet with Firestone in the off-season, early in the year, and they go through what their plan is, so they give us a heads-up on what to expect, whether there's a change in compound for either the primary or alternate tire at a particular track, or sometimes even a change in construction.
And a change in construction, as well as affecting the core tire temperature, can also make a difference to the stiffness of the tire's sidewalls. As a race engineer, you need to take that into account regarding how much the front tires will deform under heavy braking, and how much that affects bump absorption, and the turn-in for corners…
Yeah, that's correct and there's a difference between the blacks [primaries] and reds [alternates] in that area, too. As a team, we usually know what's going to happen because Firestone usually bring the same construction as the year before so we have the data that we collected on them. But I think for a new driver coming in such as Marcus, he's going up against drivers who already have that knowledge of the various tires' behavior, and that's why the rookies can struggle with the reds. Sure, everyone gets them for second practice but they're often only one-lap tires, so unless a rookie can immediately quantify how much extra grip they offer, they're still going to struggle against the most experienced drivers by the time they get to use them again in qualifying.
Ericsson consults with his Arrow SPM race engineer Blair Perschbacher, who has come to regard him as a quick study of all things IndyCar.
Photo by: Brian Cleary
Speaking of Marcus as a rookie, does he now automatically know what a 2psi increase in tire pressure will do to the handling of the car and what your intentions are by making that change, or do you still need to talk him through it?
In pre-season testing or the first couple of races I'd tell him what I'm trying to achieve with a certain change, but we're 10 races into his IndyCar career and he's pretty sharp; he's caught on now. Back then we'd say, 'Here's what we usually do,' and he'd go 'OK,' and accept the car as it stands as a starting point. I'd send him out and ask him to report back, and I'll make a change in response to his feedback and we can discuss it later. Now he's at a point where he knows what changes on the primaries will do once we switch to alternates for qualifying, so toward the end of third practice, we'll be aiming for a setup that we know will optimize the car for reds. He now knows what kind of feeling he needs on the blacks to make sure that when qualifying starts and he's on reds, he'll have them in their perfect operating window.
Before we talk about race day, how much projection and predicting do you have to do pre-event in terms of how the tires will behave when the track is still 'green' on the opening laps of first practice compared with how they will be by Sunday once the surface is 'rubbered up' – providing there's no mid-event rain?

As part of our pre-event information, you look back at the recent history of the track, in terms of time gains from Practice 1 through qualifying and to the race. For example, the difference is much greater on street courses, so you would then plan your setup changes accordingly.
You also have to take into account what series goes out before you – maybe Indy Lights on Cooper Tires, or IMSA on Michelin, or on ovals, the Goodyears used by whichever NASCAR series is with us. If those rubber compounds are incompatible with our Firestones, then maybe we'll be slower than we predicted for the first 10 or 15 minutes of our session until we've got that rubber off, but you don't want to overreact to that.
Actually, mentioning ovals, there's an interesting problem at Texas because the NASCAR Trucks go out before us and they take a different line around there than we do, so we have to cross that line of their rubber to use the line we want to run, so our guys are dealing with a grip change mid-corner…
OK, turning to the race… Because a driver's not quite at 100 percent in a race stint because he needs to make the tires last over that stint, do you have a calculation – a mean lap time – for let's say a 20-lap stint, that a driver must work to so that the tire dropoff from Lap 1 to Lap 20 is as minimal as possible?
Yes, and that's when having two cars – three when Meyer Shank Racing with Arrow SPM joins us – is particularly useful. You can get a lot of homework done, and start working out how fast we think the tires are going to degrade and what the ultimate lap time delta is. In your 20-lap example, you might see that yeah, the reds are one-second faster per lap but only for the first 10 laps, but running that one second faster per lap may be way more advantageous in terms of gaining track position than running a more consistent but slower lap time for all 20 laps.
Having said that, at the same time, you don't want to take so much life out of your tire at the start of a stint so it's unusable by the end. It's quite a balancing act. Luckily James, and now also Marcus and Jack, know how hard they can push at the start of a stint without driving so hard that they kill the tire too early so they've got nothing left by the end of the stint. If you have the situation that James had at Road America, where he has to push on the out-lap to gain track position relative to his closest rivals, he knows how much he then has to nurse the tires for maybe five laps to compensate. And we'll all consider it was worthwhile doing it that way because he made up two places and it's hard to pass.
The multi-dimensional duties of an IndyCar crew member: Tim Lane takes readings from the tires, but is also one of Arrow SPM's transportation managers and is refueler for Ericsson's #7 car.
Photo by: Art Fleischmann
One of the complaints about Formula 1 in recent years is that Pirelli was asked to build fairly strange specification tires which means the fastest lap of the race can be four seconds slower than pole, because the drivers are spending so much time nursing their tires and so they're a long way off the limit of themselves and their cars. Do you wish that was the case in IndyCar because you'd enjoy it as an engineering challenge?
No, not really. I don't often have the chance to watch F1 until our season is over because we're often racing the same weekend, but when I saw a bit of the French Grand Prix a couple of weeks back, I saw that the fastest laps were all coming at the end of the race, not just because their fuel had gone down [Formula 1 cars carry enough fuel for the entire race], but because the drivers knew they didn't have to make their tires last now. So that suggests they had all been driving to a fairly strict delta time up to that point and there was a lot more pace in the car. I can see that being frustrating for engineers and drivers.
In IndyCar, there is probably only a two-second difference between pole and fastest lap – even on our longest track, Road America – so I think IndyCar and Firestone have got it right: although the drivers and race engineers have to think about tire degradation and adjust setup or driving to match, you can still run a hard pace, near the car's limit. You don't want to be thinking, 'Oh, today we need to drive at eight-tenths because of the tires.' You want to be driving really hard.
There are some IndyCar races where going a lap longer in a stint is beneficial because the tire degradation is less at that track and you're on low fuel so your driver can turn a really quick in-lap, faster than the car in front's out-lap, and so you can jump him. Then there are some races where stopping early and getting onto a fresher set of tires A.S.A.P. and maybe getting into clean air sooner will give you the chance to cut loose jump the car in front that way. Ahead of a race, do you have a preset formula as to which strategy is best, or do you have to make the decision according to how the race plays out?
We check historically whether it's an undercut race or an overcut race, and therefore what's the best strategy. Like at Road America, because the out-laps were so slow, you could stay out one more lap and gain on somebody at the end of a stint, and other tracks the out-laps are fast and you can immediately gain time on someone who's trying to stretch their stint on old tires.
So we look back at previous races on that venue, and although sometimes the tires have changed from year to year, you should still be able to gauge over the course of a weekend whether the tires have changed enough whereby the whole undercut/overcut balance has shifted since the previous year.
Does the weight of a full fuel load increase tire degradation, or by planting the car better to the road so there's not so much lateral movement, does tire deg lessen when the car's heavier?
To be honest, a lot of the time how the car behaves under differing fuel loads is more down to setup. I think often we have setups that prefer a heavy fuel load and aren't quite so strong on a light fuel load. I don't mean that in terms of pure speed, because the weight of the fuel is such that you're always going to be faster on a light fuel load so long as you still have the tires to do it. But sometimes a car will feel better to the driver if it's got more fuel weight in it, and that may be because we've missed a bit on setup. For example, at Circuit of The Americas this year, we weren't as fast as we should have been on race day, but on a full fuel load after each pitstop, Marcus and James made good progress because the cars felt more stable, or the weight of the car energized the tire in the right way. It's not ultimately faster, but may be relative to everyone else on full fuel loads our car was better.
Ericsson on his way to second place at Belle Isle, Detroit last month.
Photo by: Geoffrey M. Miller / LAT Images
Because the cars are so much lighter on downforce than they used to be in the manufacturer aerokit era [2015-'17] and the power to grip ratio strongly favors power more than it did with the pre-2012 cars on ovals, does tire behavior make a far bigger difference on ovals than it used to?
For sure! There is a lot more tire degradation now. Back when we ran the IRL cars, from 2011 back, there was no tire degradation – your pitstop strategy was defined by fuel consumption, and you ran flat out the whole time. Now the drivers are lifting a lot more, the difference between straightline speed and apex speed is greater, it's been put in the hands of the drivers, so we look at tire degradation a lot more. Being the fastest you can be over a 75-lap stint at our shortest oval, Iowa Speedway, will be defined by tire deg.
And, using Iowa as an example, is there a formula for working out what a high line/shallower turn/longer line will save you in terms of tire life and cost you in ultimate speed over the course of those 75 laps, compared with running at the bottom of the track, covering less distance but putting more lateral G and scrub through the tires because your turn-in angles are more acute?
I wouldn't say we have a formula for it because it's so hard to try it out. We tested with Marcus last week at Iowa, and we sent him up to the high line just to give him a feel for it, and the problem is that because so few people run that high line, there just isn't grip up there; it doesn't get rubbered in. So your pace is much slower to start with when you try and do that.
To answer your question, yes, we know what the laptime difference will be, and we know that tire degradation will be a little less up top, so we might tell the drivers to run the first 10 laps at the bottom if that helps them make passes, but then start going toward the top so they aren't killing the tires. But at the end of the day, a lot of it will depend on where and when and how they want to make passes on backmarkers or pass cars for position. As much projecting as we want to do beforehand and even on the pit wall, we've got to rely on the drivers to understand what is and isn't best for their tires and when is or isn't a good time to try and pass the car in front.
About Arrow Electronics
Arrow Electronics guides innovation forward for over 200,000 leading technology manufacturers and service providers. With 2018 sales of $30 billion, Arrow develops technology solutions that improve business and daily life. Learn more at fiveyearsout.com.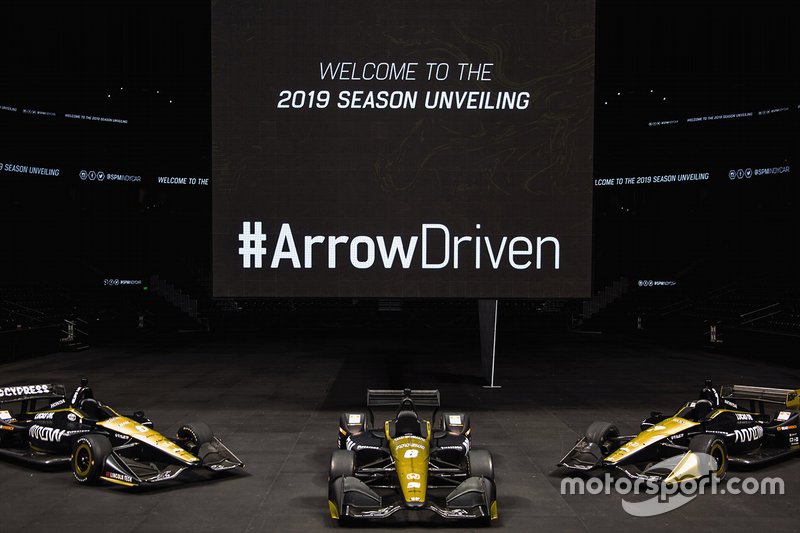 The Arrow SPM-Hondas of James Hinchcliffe, Robert Wickens and Marcus Ericsson.
Photo by: Arrow SPM
Figuring out Firestone's IndyCar tires with Arrow SPM