IndyCar Fontana: Should we be outraged or amazed?
The MAVTV500 was a spectacle that will be remembered for years to come, but some hope it is something we never see again.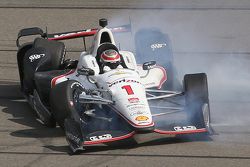 It's been entertaining reading and watching all the commentary about Saturday's MAVTV 500 on the Auto Club Speedway 2-mile oval in Fontana, Cal. This may come as a surprise but I've got to go along with two opinions, the one from racer/team co-owner Ed Carpenter where he stated on Twitter: "I love close IndyCar racing. Hate to see drivers bad mouthing a series. If you want to race, race. If not, retire."
Carpenter also retweeted a comment Ryan Briscoe, who was involved in the final lap incident after racing at the front of the field for most of the contest's 250 laps: "I thought today's IndyCar race was awesome. A few drivers need to show more respect out there, but the racing was fierce and exciting."
The winner's purse
Robin Miller posted a video in which he extolled the race as one of the best he's seen - as did the legendary A.J. Foyt - and ravaged INDYCAR CEO Mark Miles for the low pay generated by Rahal Letterman Lanigan Racing winner Graham Rahal ($30,000 won't even cover travel expenses for this small team) and the grand number of solar reflectors, rather than fans in the stands to witness a fabulous oval race.
There were drivers that didn't like the fact that they had to race side-by-side with two or three or even four or five cars on the extremely wide, D-shaped Fontana oval. Prime among them were guys like runner-up Tony Kanaan, Will Power and Juan Pablo Montoya. I take the latter driver, who continues to lead the Verizon IndyCar Series points standings after his fourth-place result, to task for his comments, recalling the Colombian's victory at Michigan in the 2000 CART race where the racing was very similar. He raced tight and clean during this race - what's the problem?
No comparison to Vegas
Kanaan, in particular, brought up the prospect of another Las Vegas, where the great Dan Wheldon died from unsurvivable injuries in a race that never should have been held. If anything, that race is the reason Randy Bernard no longer works for INDYCAR. It was the final stanza for the old Dallara INDYCAR chassis and brought drivers out of the woodwork and onto the track that never should have been there. Period. It was stupid driving that caused that chain-reaction accident; there's no comparison to Saturday's Verizon IndyCar Series race.
Oh, and Kanaan was one of the fiercest and most aggressive drivers out there, diving, bobbing, weaving his way through the traffic, going high, going low and generally racing at least three-abreast most laps. His outside moves were mesmerizing. And then he trashed the way the race was held? And the requirements set by INDYCAR for his Chevrolet aero kit? Kanaan missed a second consecutive victory by inches; that's the only complaint he should have.
Impressive reliability for a 500-miler
As we're casting blame for all of the group racing, let's also remember the amazing reliability we experienced in this contest. Although James Jakes lost an engine in the second practice session and was unable to qualify, not making it to tech in time, there were no other debilitating mechanical problems in this 500-miler - that weren't of the team's or driver's doing.
The sole injury sustained during the MAVTV 500 came to a member of Dale Coyne Racing, Olen Trower was hit by driver Tristan Vautier during their first pit stop, marking the fourth time this year a team member has sustained a pit injury.
135 laps without a yellow
On Saturday I saw a tremendous level of trust, respect and diligence on the racetrack. Quite frankly, I thought it was going to be slow going, with green-flag runs breaking up the cautions. To go through 135 laps before throwing yellow was, to my mind exemplary racing on the part of 23 Indy car drivers. They raced single file; they raced many-wide and they raced clean and fast. Closing speeds into the first turn were most often in excess of 220mph.
That the race ended with a spectacular accident - from which all participants walked away - was a darn shame, especially since INDYCAR did throw a red flag at the previous caution to try and ensure a green-flag finish. When a driver gets turned on the track, though, something like this is going to ensue - unless the cars are so strung apart as to be boring (see Texas, which used to be pure entertainment). Schmidt Peterson Racing will have to build a new car; Andretti Autosport will have to replace some parts but neither Ryan, Briscoe or Hunter-Reay, needed any medical assistance and that speaks to the veracity and safety of these cars.
These 23 racers were hired to put their lives at risk - even in front of only 5,000 amazed fans - and they raced hard and clean. Except, of course when they didn't. And if you're not going for it at the close of 500 miles, you have no right being in a race car. If a driver doesn't heed Takuma Sato's creed of "no attack no chance" in the final 10 laps of a 500-miler, maybe they should do as Ed Carpenter suggests and retire.
Subscribe and access Motorsport.com with your ad-blocker.
From Formula 1 to MotoGP we report straight from the paddock because we love our sport, just like you. In order to keep delivering our expert journalism, our website uses advertising. Still, we want to give you the opportunity to enjoy an ad-free and tracker-free website and to continue using your adblocker.
Become a subscriber.
Disable your adblocker.