Servia on passing 46 cars in the Indy 500: "I was on fire!"
Oriol Servia says that his performance at this year's Indy 500 was one of his best and he hopes it will lead to further races – ideally, with Rahal Letterman Lanigan Racing and Scuderia Corsa.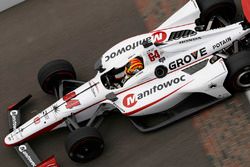 Servia, driving a third RLLR-Honda entered by sportscar team Scuderia Corsa, passed more cars than any other driver and worked his way up from near the back of the grid to lead 16 laps – more than all except Ed Carpenter, Will Power and Tony Kanaan.
The 43-year-old veteran was leading the last stint until being jumped by Stefan Wilson and Jack Harvey on the final restart, although they would have to pit onLap 196 for a splash of fuel. Then Servia himself, running second to Power, had to also splash-n-dash on 198.
"It was a great race, not so much for what people saw at the end, but for the rest of the race. Great effort," he said.
"Honestly I felt I was on fire in the second half of the race and someone told me I passed 46 cars. I started 26th, I passed 46 cars, and I finished 17th. I'm not very good at math, but… how is this possible?!"
Servia admitted that at the time, he did not agree with the team's policy of switching to an alternate strategy in the final quarter of the race, because he'd been able to pass so many cars legitimately on track, but accepted they were playing to win, whereas he didn't have the speed to combat Power and Carpenter.
"So this is what happened: 44 laps to go, the team called me in and said, 'We're trying to go to the end.' The stint before that I had passed seven cars, so when they called me in, I didn't want to go because I worked the whole race to get here. I was not happy to give up track position.
"But I cannot really be upset about it because we only needed two more laps of yellow to make it on their strategy. You know, in the same way I took big risks on track, they took big risks on the pitstand, and we're trying to win.
"A third or a fifth place wasn't going to change my life. A win would, and that's what we're here for, so they tried it and honestly, they almost did it. So no problem.
"It was a very good effort by everyone involved, especially when you put it in the perspective that this was a one-off entry, a group of mechanics from the RLL BMW sportscar side, and the engineers were mix and match.
"We were probably the whole month the second or third best Honda, which is great, and we were fighting at the front in two ways, on the racetrack and in the strategy, so I think we can be very satisfied.
"We didn't have the speed for Will [Power] and Ed [Carpenter], but things can happen so it was worth staying out there for as long as possible in case there was a last yellow."
Servia was also thrilled that Scuderia Corsa got the whole Indy 500 experience through the two weeks.
"Man, it was a great insight into Indy, wasn't it?" he said. "We have good solid practice days, then we get there on Saturday believing we could possibly get ourselves into the Fast Nine if we got everything right. Then three hours later we're almost not getting in the race!
"Then starting at the back, making moves, getting to the front and then pitting from second with only two laps to go! Crazy, crazy…
"So the whole thing was really high on emotion and intensity. It was the whole Indy 500 dose, – no baby doses! Oh my God I love that race."
Servia said he was confident before the race, despite the struggles through Bump Day and Pole Day.
"Oh, yeah, I was completely certain we'd have a strong racecar," he recalled. "The Bump Day issue was something going wrong – it took us all Saturday and Sunday to find it, but the basis of the car was absolutely great. Super-happy with the balance.
"We had to start at the back, so I was a little worried there, but I was sure we'd find our way through and the race kind of went the way I expected.
"Some people expected a lot of yellow at the start because of the heat, and trying to not get too close. But I called it – I'd say they'd be conservative at the start, but later people would start risking more."
Servia said he understood why there were so many incidents in the race, leading to 41 laps run under caution.
"The reason people lost it was that this year the cars would understeer when you got really close to the car in front," he explained. "So when you're trying to make something happen to make passes, you start changing the bars and the weightjacker to make the car more positive, give it more front end bite.
"But that's making the car as loose as possible. The aero is making the car understeer aerodynamically so you're doing everything in the cockpit to make it loose to counteract that understeer.
"The problem is, if something at the front then catches air or you hit a bump or something, the car is now so mechanically loose that the tail just snaps around on you. You've created your own problem with the cockpit tools that had been helping you."
Servia said that he believed in 2017 he was the best he'd ever been at Indy, and that this year he was still at that level and so he's eager to return, hopefully with the same team.
"Last year I elevated my game, and this year is back up there, yeah," he reflected. "So absolutely want to do it again with Scuderia Corsa and RLL.
"It was great, we liked each other, and everyone on the team now feels that we can do it.
"It's just a hard one. I mean, if you say Scott Dixon is the most complete driver out there and you recognize how great the Ganassi team is, and then you realize that they've been together in 17 years and only won the race once…
"Anyway I hope I made a statement that we can win this, and if it's just the one race we do together, then at least next year we go into it properly prepared with all the experience from this year."
Subscribe and access Motorsport.com with your ad-blocker.
From Formula 1 to MotoGP we report straight from the paddock because we love our sport, just like you. In order to keep delivering our expert journalism, our website uses advertising. Still, we want to give you the opportunity to enjoy an ad-free and tracker-free website and to continue using your adblocker.
Become a subscriber.
Disable your adblocker.