Emotional night at the NASCAR Hall as five legends are inducted
An emotional tribute to the late Robert Yates highlighted Friday night's induction of the newest class of five inductees into the NASCAR Hall of Fame.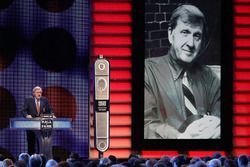 Yates, a longtime engine builder and team owner in NASCAR, died of complications from liver cancer on Oct. 2 last year. He knew of his election to the Class of 2018 but wasn't able to participate in the ceremony.
However, Yates had written his acceptance speech before his death and before a hushed crowd at the Charlotte Convention Center, Yates former driver, Hall of Famer Dale Jarrett, read the speech in a moving tribute.
Some highlights:
"When I started in racing, this was not the goal. All I wanted to do throughout my career was win races. I would always say, I don't race for the money, I race to win. For me, that's what it's always been about, but to be part of this year's induction class is a true honor. There are a lot of other people I want to thank because this isn't really about me; it's about those who gave me the opportunity to do something I love. …
"It's been 51 years since I took a four‑day leave from the Army and made the best decision of my life: I married Carolyn. She's been by my side ever since and has supported me every step of the way. I worked all hours of the day and night, but she never called to say, get home. She let me work.
"Carolyn, I don't know where the time has gone, but it seems like yesterday we were in a one‑bedroom apartment trying to make ends meet. You're the light of my life. You've always been there for me, particularly this past year. Your devotion reminded me of our vows: In sickness and in health. And I love you.
"I never prayed to win a race. I just prayed for the wisdom to help me make good decisions.  My creator didn't always give me what I asked for, but he gave me more than I deserved. I thank you for this great honor. Good night, and God bless."
Joining Yates in the Class of 2018 were Red Byron, Ken Squier, Ron Hornaday Jr. and Ray Evernham.
Byron
Robert "Red" Byron won the sanctioning body's first race in 1948, on the Daytona beach road course. He went on in 1948 to win NASCAR's first season championship – in the Modified Division. The following year, he won two races and the championship in NASCAR's "Strictly Stock" series, the precursor to today's Cup Series.
"In Major League Baseball, it is the 1908 Boston Americans. For the NFL, the 1933 Chicago Bears, in the NBA, the 1948 Philadelphia Warriors, and for NASCAR it is Robert "Red" Byron in 1948. The common denominator of each is they are the first champions in their respective professional sports leagues. One thing is crystal clear: Red Byron's pioneering spirit, contributions and accomplishments solidify his legacy and rightful place in the NASCAR Hall of Fame."
--- Hall of Fame Executive Director Winston Kelley
Squier
Squier carved a massive footprint during NASCAR's formative broadcast years. One of NASCAR's original broadcasters, Squier co-founded the Motor Racing Network (MRN) in 1970. He is perhaps best-known for calling the 1979 Daytona 500, a milestone moment for the entire sport.
"Between the end at Homestead and the beginning at Daytona, during this season when the engines are silent, tracks pretty much snowed under, we reflect. We ponder the purpose of our sport, what its gifts are, what it teaches us.
"In our sport, there are innovators, builders, advocates, challengers, heroes, and an announcer now and then, who all have a part to play. And those who play the parts with utmost passion, we take this season of reflection to recognize them and their craft.
"This is always a thank‑you time speech, so many to deal with. Some of us are inconceivably lucky to call these folks friends. I think we all call them heroes. And I'm feeling like an odd duck in a flock of fancy geese, let me tell you."
--- From Ken Squier's induction speech
Hornaday
Hornaday, a second-generation racer from Palmdale, Calif., boasts a record four Truck Series championships and 51 wins. In 2009, Hornaday won five straight series races, a feat matched only three other times in NASCAR national series history. 
"First of all, I started two nights, can't sleep. Sitting up here trying to think what you're going to say to anybody, and it's the toughest thing you'd ever say. And everybody would just say just be yourself, it's easy. It's the frigging Hall of Fame, guys. It's the toughest thing you've ever done. …
"This is for every short track racer that ever had a dream, ever had a heart, ever believed in anything that you can believe in, this is it. Hall of Fame, and what a class I'm in with. Ray, everybody, thank you for so much. And I know I missed everybody. Family, love everybody. Thank you. God bless."
--- From Ron Hornaday's induction speech
Evernham
Evernham guided driver Jeff Gordon and the No. 24 Hendrick Motorsports team to three Cup series championships in four seasons (1995, '97, '98), and a series-leading 47 wins in the 1990s. In 2001, Evernham tried his hand at ownership, leading the return of Dodge to NASCAR. His drivers won 13 times.
"I think that's when you look back at your career you realize there's so many people that helped you, whether they taught you something or gave you a few bucks, a pat on the back or a vote of confidence. It's like all those people that cheer the marathon runners on. I don't remember everybody's names and their instances, but I want you to know that I'm standing here tonight because of you. …
"It's been a long ride. Driver, a crew chief, a owner and TV and radio, but it may never have happened if it wasn't for that kid that Andy Petree called me about: Jeff Gordon. First I need to thank his mom and dad, John and Carol Bickford, for not only doing a good job raising him, but they raised a bunch of us and have been great family."
--- From Ray Evernham's induction speech
Subscribe and access Motorsport.com with your ad-blocker.
From Formula 1 to MotoGP we report straight from the paddock because we love our sport, just like you. In order to keep delivering our expert journalism, our website uses advertising. Still, we want to give you the opportunity to enjoy an ad-free and tracker-free website and to continue using your adblocker.
Become a subscriber.
Disable your adblocker.