It's Playoff time for eight Truck title contenders
The NASCAR Camping World Truck Series playoffs get under way this weekend with the Chevrolet Silverado 250 at Canadian Tire Motorsports Park (Sunday, 2:30 p.m. ET, FS1, MRN).

Eight teams qualified for the seven-race series, including former champions Johnny Sauter (2016) and Matt Crafton (2013-14).
After this weekend's stop, the series will travel to Las Vegas and Talladega to complete Round 1. The eight-team field will be trimmed to six after Talladega, with any eligible race winner advancing as well as those highest in points.
Martinsville, Texas and ISM (formerly Phoenix Raceway) make up Round 2. Again, two teams will be trimmed after the final race of the round, sending four teams to Homestead-Miami Speedway to compete for the title on Nov. 16.
On Aug. 21, the eight playoff drivers met with members of the media to discuss this year's championship battle. Below are their playoff outlook:
1. Johnny Sauter, No. 21 GMS Racing Chevrolet (2,042 pts.)
The 40-year-old Sauter has 22 victories in the NCWTS, including a career-best five wins this season. With 42 playoff points, Sauter is considered one of those most likely to wind up battling for the title in Homestead. He's won at six of the seven playoff venues and has a streak of four consecutive top-10 finishes at this week's road-course stop.
"I never count anybody out," Sauter said of his competition. "I've been racing too long. Just when you think things are going to work out, they don't. So you just have to keep your nose to the grindstone."
Johnny Sauter, GMS Racing, Chevrolet Silverado GMS Fabrication
Photo by: Nigel Kinrade / NKP / LAT Images
2. Brett Moffitt, No 16 Hattori Racing Enterprises Toyota (2,027)
It's unlikely that Moffitt and the HRE group were considered title contenders when the season began. And then Moffitt, 26, went out and won four times. He's the No. 2 seed and has a nice buildup of 27 playoff points that will transfer as long as he continues to advance.
"The sponsorship issues, that's been an on-going battle," Moffitt said. "We still have two races open even in the playoffs which is somewhat of a distraction to our race team but hopefully we go out here and have a solid first round and lock ourselves into the next one."
Race winner Brett Moffitt
Photo by: Russell LaBounty / NKP / LAT Images
3. Noah Gragson, No. 18 Kyle Busch Motorsports Toyota (2,022)
One of five playoff drivers with at least one win during the regular season, Gragson is in his second full season driving for KBM. Top-10 finishes have been the norm for the 20-year-old Las Vegas native but there have been several missed opportunities this season.
"Some races have kind of slipped out of our hands there at the end … but we won a lot of stages (7) and led the most laps (this year)," said Gragson. "Just got to really put all these races together in the playoffs and make the most every time I'm on the race track."
Noah Gragson, Kyle Busch Motorsports, Toyota Tundra Safelite AutoGlass
Photo by: Matthew T. Thacker / NKP / LAT Images
4. Ben Rhodes, No. 41 ThorSport Racing Ford (2,014)
A two-time winner in the series, including a win at Kentucky Speedway this year, Rhodes is in his third full season, all coming with ThorSport. He has one victory at playoff tracks – winning at Las Vegas last year.
"I just know if I can get my team to the second round it'll be OK," he said. "I feel like this first round is going to be absolutely the hardest and then I feel like the second round is actually full of tracks that our team has been fast at. I think we get past the first round we'll be just fine."
Ben Rhodes, ThorSport Racing, Ford F-150 Alpha Energy Solutions
Photo by: Barry Cantrell / NKP / LAT Images
5. Stewart Friesen, No. 52 Halmar Friesen Racing Chevrolet (2,012)
Another surprise qualifier, Friesen has just 41 starts and is still looking for his first victory in the series. He does have four runner-up finishes, including the most recent stop (Bristol).
"This was our goal all along and our expectation, to be in the playoffs," he said. … "Our alliance with GMS, we knew coming in we would have quality, winning equipment. I don't think we've exceeded our expectations at all being a new race team but definitely that alliance has picked us up and kind of kicked us right into the hunt."
Stewart Friesen, Halmar Friesen Racing, Chevrolet Silverado We Build America
Photo by: Matthew T. Thacker / NKP / LAT Images
6. Grant Enfinger, No. 98 ThorSport Racing Ford (2,011)
At 33, Enfinger is another driver with somewhat limited experience in the series. He has 53 starts and one career win (Talladega, 2016). His record at the first handful of playoff tracks is decent and he's finished 10th or better in his last six starts. But he knows his team has to "step it up."
"Honestly for Brett and Johnny, they can have an off race and still advance on to the next round," said Enfinger. "They don't need a bad race but really, the rest of us six we can't even have an off race. That would be pretty detrimental to our season.
"I don't think we necessarily have to win one of these next three but you can't have a bad race. Those two kind of have a leg up on us now. They've had a heck of a regular season and the rest of us haven't, bottom line."
Grant Enfinger, ThorSport Racing, Ford F-150
Photo by: Barry Cantrell / NKP / LAT Images
7. Justin Haley, No. 24 GMS Racing Chevrolet (2,009)
At 19, Haley is the youngest driver in this year's playoffs. He won for the first time this year at Gateway Motorsports Park. The Winamac, Ind.-native could surprise a few folks if he can get past the first round – he's finished 10th or better in his last seven starts. He's also considered one of the favorites heading into this week's road-course race.
"Going into the playoffs I think it's one of the better rounds for our team … with Talladega, we have really fast superspeedway trucks and (CTMP) with my road-course background should be good."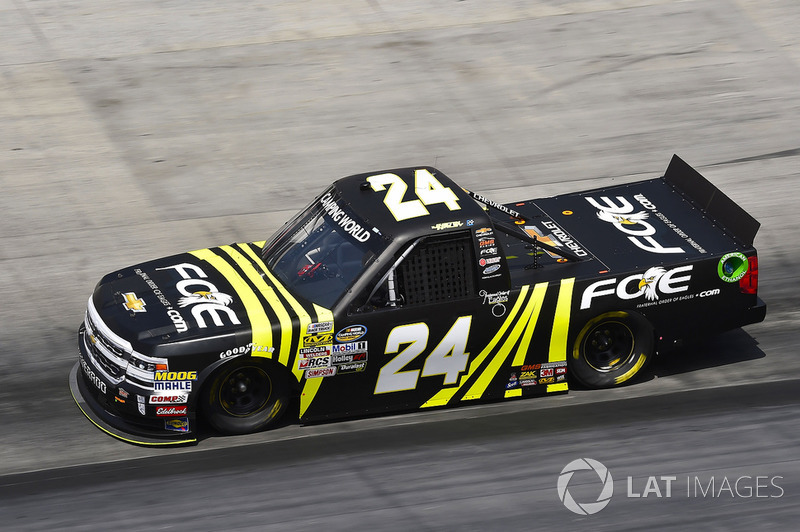 Justin Haley, GMS Racing, Chevrolet Silverado Fraternal Order Of Eagles
Photo by: Nigel Kinrade / NKP / LAT Images
8. Matt Crafton, No. 88 ThorSport Racing Ford (2,003)
Crafton's the veteran, 42 years old and twice a series champion. He has 14 career wins but none this season. His best '18 result has been second at Dover but he is riding five consecutive top-10 finishes into the playoffs.
Being the eighth seed, he said, isn't a concern.
"That was my mentality when we got our wins just by putting decent enough races together at the end of the season," Crafton said. "Now we don't have any pressure. Can't get any worse and I know we will be better. I truly believe that.
"I know I've got such good a good group of guys. Same crew chief (Carl "Junior" Joiner) that was with me when we won two championships and when we won six races that (following) year. We will get it together. I don't know exactly when we will get it together but right now is a pretty good time."
Matt Crafton, ThorSport Racing, Ford F-150 Great Lakes Wood Floors/Menards
Photo by: Nigel Kinrade / NKP / LAT Images
Powered by
18+, UK residents only, T&Cs Apply, Gamble Responsibly
It's Playoff time for eight Truck title contenders