Audi's exit from the FIA World Endurance Championship has left many highly qualified drivers unemployed, meaning a major shake-up in the 2017 driver market is likely. Jamie Klein examines the state of play.
Porsche: Big changes afoot
As reported on Wednesday, Nick Tandy will be getting a thoroughly deserved promotion to the LMP1 ranks. Initially, it was believed the Briton had won the race to take Webber's spot in what is currently the #1 line-up, but that was prior to Audi's withdrawal – and Porsche may now take the opportunity to conduct a more thorough shake-up of a roster than has gone unaltered since 2014.
In particular, both of Neel Jani's teammates in the #2 car, Romain Dumas and Marc Lieb, are thought to be under pressure, having given a series of underwhelming performances since their Le Mans victory. Lieb in particular is thought to be virtually certain of losing his seat, and therefore the 36-year-old may well take the opportunity to announce his retirement from the top flight of sportscar racing.
That means Earl Bamber is a strong bet to join his Le Mans-winning teammate Tandy in an LMP1 car next year, most likely alongside Jani and one other driver in the #2. That could well end up being the most attractive of the ex-Audi candidates, Andre Lotterer, who no doubt has the speed to transform the #2 line-up into at least the equal of the #1 in performance terms.
Were Lotterer to make the switch, it would probably leave Dumas in the cold. But the Frenchman could earn a reprieve should Porsche opt to run a third car at Le Mans, as it will no doubt come under pressure to by the ACO – particularly with Toyota more likely to sign off on a three-car assault in France next year. An ex-Le Mans winner, Dumas would be ideally placed to lead a third Porsche line-up at La Sarthe.
Who his teammates would be in such a scenario is harder to predict, but this is where some of the other Audi refugees could come into play. Oliver Jarvis, Lucas di Grassi and Loic Duval are all contenders; of the three, Jarvis is the only true free agent, but di Grassi's Formula E commitments with Porsche's sister brand Audi means it's not too big a leap for the Brazilian to race for Porsche.
While experience is vital for a third car, Porsche may also want to bed in a new young driver for the future, and the ideal candidate here is Sven Muller, this year's Porsche Supercup champion. It's a path well-trodden, Bamber having won the F1-supporting series in 2014 before being handed a drive in a 919 Hybrid the following year. And that didn't go so badly, did it?
Predictions:
#1 – Jani/Bamber/Lotterer
#2 – Hartley/Bernhard/Tandy
#3 – Dumas/di Grassi/Muller (third car for Le Mans)
#1 Porsche Team Porsche 919 Hybrid: Timo Bernhard, Mark Webber, Brendon Hartley
Photo by: Porsche Motorsport
Toyota: Largely set in stone
At Toyota, the situation is a little clearer, not least because it's believed that the line-ups for a full-season two car effort were firmed up before Audi announced its withdrawal. The chances of seeing any of the six land at the Japanese marque are therefore slim, even if Lotterer has links to Toyota via his Super Formula campaigns with TOMS.
In fact, there's only one major change expected. Jose Maria Lopez is known to have done multiple tests in the TS050 Hybrid and impressed greatly, to the extent that the Argentine is looking a shoe-in for a 2017 seat – not that either he or Toyota are willing to admit it. Expect an announcement in January, with Stephane Sarrazin looking like being the most likely man to make way.
So that's the two main line-ups sorted, but a third car at Le Mans is looking like an ever-increasing possibility given Toyota's heartbreaking near-miss this year and no small amount of prodding from the ACO to bolster what's looking like a rather thin field of LMP1s at La Sarthe at present.
Toyota has done little to hide the fact that Ryo Hirakawa is being groomed for an LMP1 future, and the Japanese team is highly likely to want to ensure a home-grown driver in each of its cars if it commits to three. Consider the 22-year-old, who contested ELMS this season with Thiriet by TDS, a sure thing if a third car comes to fruition.
That leaves two more slots, and we understand that Toyota isn't keen on running two rookies in one car – which appears to rule out Alex Lynn, who has tested the car on more than one occasion and has been linked to some sort of role with the Cologne squad. Mathias Beche is another man with close connections to Toyota, and has some LMP1 experience, but is said to not have impressed in testing.
Perhaps, then, the ex-Audi drivers could provide the experience needed. Di Grassi is a possibility, but his Audi Formula E ties could make it tricky. No such problems for Jarvis; likewise for ex-ORECA man Duval - both are quick, experienced and available. Failing that, perhaps Lynn would get the nod, but also Pipo Derani could be an outside shot if he performs well in next weekend's rookie test in Bahrain.
Predictions:
#5 – Davidson/Buemi/Nakajima
#6 – Kobayashi/Conway/Lopez
#7 – Jarvis/Hirakawa/Duval (third car for Le Mans)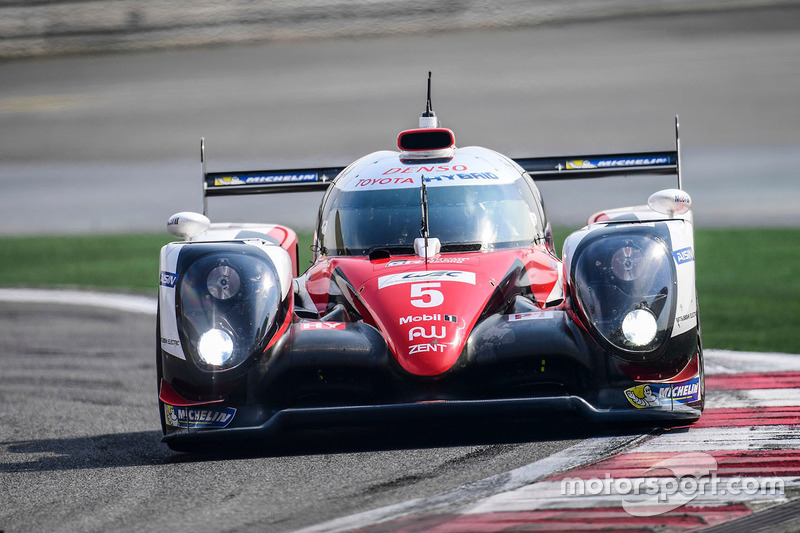 #5 Toyota Racing Toyota TS050 Hybrid: Anthony Davidson, Sébastien Buemi, Kazuki Nakajima
Photo by: Vision Sport Agency
What next for the Audi refugees?
Arguably still LMP1's benchmark driver, Lotterer is looking like the only of the sextet of suddenly-unemployed Audi drivers likely to get a full-time WEC berth in 2017, with Porsche the logical destination. Given his speed and reputation, it would almost seem unthinkable for Weissach to pass up the chance to sign the German, particularly with Lieb and Dumas having underperformed.
Di Grassi and Duval, while contenders for Le Mans returns in a third car, have their Formula E commitments to focus on (a job di Grassi says was taking up more and more of his time before Audi pulled the plug on endurance racing). The Brazilian staying as a directly-contracted Audi driver, however, makes him appearing anywhere other than a VW Group marque seem somewhat unlikely.
The situation for Duval is less complex, given he races for the Faraday Future Dragon squad, making an appearance with either Porsche or Toyota at Le Mans theoretically possible. The same applies to Jarvis, who admitted in Shanghai that he has little clue what his future holds at this stage – although remaining in WEC is his priority. A Le Mans tilt, combined with racing elsewhere, could be his best option.
Then there are Lotterer's two teammates in the #7 car, Marcel Fassler and Benoit Treluyer. The duo being the elder statesmen of the Audi stable, it's hard to see how either is likely to continue in LMP1. Fassler's most likely avenue to pursue is with Corvette, him having raced for the American marque at Le Mans in 2009 and also the Daytona 24 Hours, Sebring 12 Hours and Petit Le Mans this year.
Treluyer, meanwhile, could well be retained by Audi for its GT programme, as he is unlikely to have too many other options from a factory standpoint. But a return to Le Mans, in an LMP2 or GTE machine, certainly can't be ruled out given his status of a former three-time winner of the event.
Analysis: The state of play in the LMP1 driver market