M.I.A - The curious case of Nicolas Lapierre
Nicolas Lapierre was en route to the 2014 WEC title with Toyota when, suddenly, he stopped racing and went missing. Sam Smith investigates the Frenchman's case...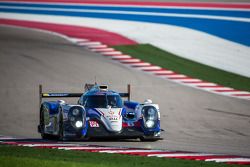 In a world where rumour and innuendo is increasingly manifest in motorsport, it is often difficult to ascertain the truth of a specific matter or incident.
The recent speculation on Fernando Alonso's accident and its dubiously handled aftermath has re-invigorated a particular branch of speculation.
The fact remains that the fertile landscape of that accident happening in pre-season and with no actual eye-witness, at least from start to finish, meant a perfect storm brewed and was then ridden by a thousand self-appointed 'expert commentators'.
When plots thicken and official confirmation is not solid enough to nip a news story in the bud, it naturally grows strong legs.
To a certain extent his was the case in point last season when Toyota Racing announced that Nicolas Lapierre would not see out the season with the crew, which even at that stage of the season looked like a shoe-in to take the FIA WEC crowns.
Initially Toyota gave 'personal reasons' for Lapierre missing the Fuji 6 Hours and there is no reason to doubt these. It goes without saying that the racing community wished him and his family well and a swift resolution to the difficulties.
"Nicolas is taking a break due to his personal circumstances and the team will support him during this period," said team president Yoshiaki Kinoshita in October. "This was a decision we have taken together. Our driver line-up is close to completion for 2015 and beyond, and Nicolas remains a long-term member of our team."
A few weeks later Toyota indicated that Sebastien Buemi and Anthony Davidson would again continue as a pair in the #8 car. After waltzing to a serene victory in Japan, they duly went on to win the Shanghai 6 Hours and effectively seal the drivers' title, before clinching it in Bahrain with a race to spare.
While Buemi and Davidson showed their class at the FIA awards in December by acknowledging Lapierre's contribution during the season, there had been no mention from senior personnel of Lapierre in the immediate aftermath of claiming the FIA WEC silverware. Was this omission telling?
Did accidents cost him his seat?
Back in France, Lapierre spent time at home and has not been heard or seen of since. His (part) season included two accidents, albeit in very difficult conditions at Le Mans and at COTA. Did these contribute to his absence from the car post-COTA? Again, the rumours were rife that they had been.
The first of the accidents at Le Mans could be argued as one that cost Toyota a victory that weekend. The #8 car was after all the only one of the LMP1 runners not to hit any mechanical problems during the 24 hours.
But this is hindsight. The accident did happen, and then the COTA incident occurred too.
Post-race at COTA there was talk of an almighty altercation with one of Toyota's management team. Did it happen? Did it trigger the events that followed? Although some attest they did, again nobody outside of the team really knows.
What we do know is that at the post-race press conference, this writer had scribbled in his notepad, 'dejected body language' under Lapierre's quote, which described his excursion. Afterwards I spoke to him briefly but it was a short conversation and included some direct language about the conditions.
One current endurance driver (who preferred not to be named) and who knows Lapierre well and has raced with him, told me this week that he wouldn't be particularly surprised if there had been 'a fallout.'
"Nicolas is a very good driver and he is a solid professional but he is also quite emotional and I have seen him lose the plot a few times," he said. "Under pressure he can be susceptible for sure but in the heat of battle we all are under pressure I guess.
"But I can see Toyota's point of view. Remember he had also crashed at the 2013 Le Mans, at Porsche Curves when it was wet and he jumped straight out of the car when it was driveable (he eventually got back in and returned to pits – Ed). He can react sometimes without thinking things through and I am sure this was a concern for the team and may have contributed to his present situation."
Pace certainly not a problem
Looking at it rationally the decision not to run Lapierre from COTA onward last year is unlikely to have been about his pace. Over the first four races his speed was more or less comparable to Davidson, if not the mighty Buemi, who along with Lotterer and Jani was the acknowledged benchmark on pace in the FIA WEC last season.
Indeed, at Le Mans Lapierre set the #8 car's best lap of the weekend. He was also flying in the early laps and set the #8 car's best time of 3m23.117s, on lap four.
But at COTA he was someway off his rivals, setting a best of 1m50.677, while both Davidson and Buemi peaked in 1m48.993 and 1m49.134s respectively. There were variable conditions, but Lapierre seemed to be ill at ease throughout the weekend.
One stark theory remains. If Lapierre was pressured into feeling the Le Mans accident cost Toyota their first Le Mans victory last season, surely that cannot have been good for his psyche when he found himself in similar conditions again at the Austin 6 Hours three months later. With Mike Conway, Timo Bernhard and many others going off in the torrential conditions, it was hardly a moment of madness on Lapierre's part.
And, if 'pressure from the Le Mans incident' was the case, how does that stretch across to other drivers in the team? What anxiety will they feel if they make a similar error or errors in 2015?
Let's not forget that Buemi had several 'offs' last year, notably at COTA and Interlagos. OK, he didn't lose a race-winning amount of time but he could easily have done so. Surely this is just an occasional risk of pushing every lap on the limit.
With Porsche and Audi likely to significantly step up their packages in 2015, there will be more risks to take and more races to lose. Could Toyota's alleged ruthlessness come back to haunt them?
Future with Toyota on the cards
Wind forward six months and it appears that Lapierre could have at least a future at Toyota. When contacted, a spokesman confirmed with Motorsport.com that - "Nicolas remains one of Toyota Racing's contracted drivers in 2015".
Having announced Mike Conway as teammate to Alex Wurz and Stephane Sarrazin, and Kazuki Nakajima being shuffled across to join champions Buemi and Davidson, there remains a test and reserve driver opportunity at the team for 2015. Could Lapierre come back from the wilderness and fill this role?
The logical answer, for a driver who raced for the team since the inception of the program must surely be 'yes'.
But from Lapierre's point of view it would be a huge slap in the face and a tough one for any professional driver to reconcile with the team and also his ego. After all - Everyone has Got One. Then again after the difficulties of the last six months could it be viewed as an olive branch and a re-birth?
With Toyota having tested Mathias Beche, Jean-Eric Verge and Kamui Kobayashi in January for the testing role the team appears to be preparing for life without Lapierre. Remember too that he was recommended to Toyota solely by ORECA, whereas others came from either existing manufacturers (Sarrazin, Wurz, Davidson) or from F1 (Nakajima and Buemi).
The truth is we just don't know what went on behind closed doors between the end of Le Mans week and the chequered flag at COTA last year. It will be March 26 when we find out if the relationship is completely broken or whether a rapprochement has been made, as this is the date Toyota announce their test and reserve driver.
Which balls are in which courts is still unclear. Let us just hope that an excellent endurance team and a very good racing driver can move on from it, whether together or apart.
Subscribe and access Motorsport.com with your ad-blocker.
From Formula 1 to MotoGP we report straight from the paddock because we love our sport, just like you. In order to keep delivering our expert journalism, our website uses advertising. Still, we want to give you the opportunity to enjoy an ad-free and tracker-free website and to continue using your adblocker.
Become a subscriber.
Disable your adblocker.